Follow my blog with Bloglovin | Follow me on Instagram
Healthy Turkey Tortilla Soup is a spicy, flavorful recipe that is perfect for an easy dinner tonight.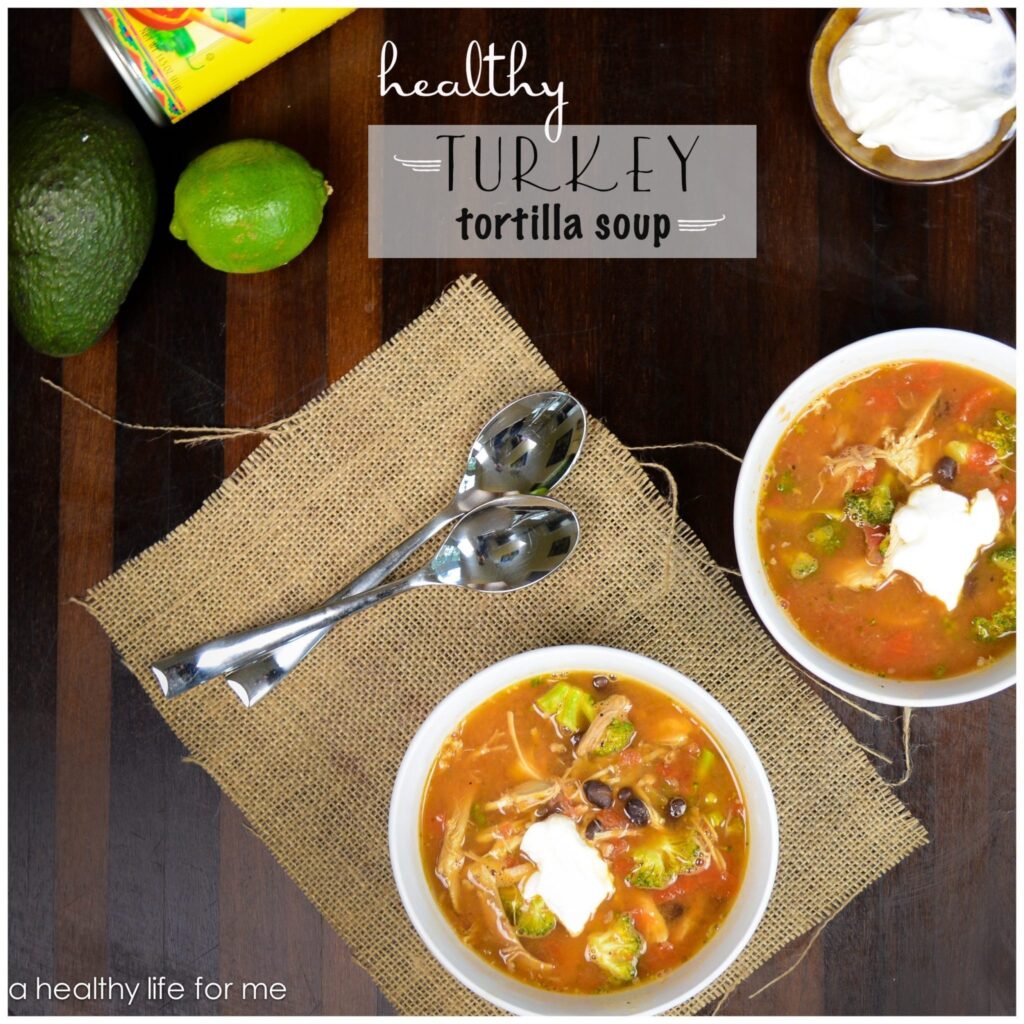 After the rush and hard work of Thanksgiving dinner, all most of us want the next couple day's is to use up the leftovers in an easy, quick and delicious way.    If the dish you prepare is healthy, all the better, so I give you Healthy Turkey Tortilla Soup.
This recipe is a healthy twist on the classic Chicken Tortilla Soup.
This soup is loaded with healthy fibers, proteins and calcium.
Turkey keeps it lean and adding the broccoli gives you a great source of beta- carotene.  Black beans are practically fat free; rinsing them lowers the sodium level while adding a great source of fiber and protein.
Do not add any salt to this dish; using low sodium organic chicken broth helps to keep sodium levels low while still adding tons of flavors.
I wrote the recipe is for 8 large bowls of soup.  You can cut in half easily or any extra can be frozen to pull out later.
My kitchen over looks my backyard and the window over my kitchen sink allows me to watch the sun rise.  The cold weather has hit with the vengeance here in Cincinnati, however we were blessed with clear skies for a few days before the holiday winter storm hit.   I was so thankful when I looked out to see such a beautiful sunrise that I couldn't resist taking a few pictures to share with you guys.
Enjoy.  I hope you had a wonderful Thanksgiving.
xo Amy
Healthy Turkey Tortilla Soup
Author: Amy Stafford
Serves: 8
Ingredients
4 cups shredded turkey (mostly white, but add a bit of dark meat for flavor)
2-15 ounce cans black beans, drained and rinsed
2-16 ounce jars salsa (I used Frontera Jalapeno Cilantro)
1 14.5 ounce can petite diced tomatoes with green chilies
5 cups low sodium organic chicken stock
2 heads of broccoli, broken into small florets (about 1½ cup)
1 avocado, peeled, pitted and mashed
½ lime, juiced
Light sour cream
Tortilla chips (I used Food Should Taste Good Multigrain Tortilla Chips)(optional)
Instructions
Add broth, beans, salsa, tomatoes, broccoli to large stock pot and bring to a low simmer, about 5-8 minutes.
Add in turkey and cook on low an additional 5-8 minutes.
Add lime juice to mashed avocado and combine
Once soup is warm add to bowl.
Add a dollop of avocado and sour cream to top
Server with tortilla chips on side or crumbled on top.