Pan Seared Roasted Pork Chops with Fig Sauce has to be the perfect Valentine's Day Dinner for Two. Easy and fast to prepare. Limited ingredients and limited time spent in the kitchen, makes this recipe the perfect way to woo the one you love.
Hope everyone had a wonderful New Year and your January started your year off with nothing but goodness. I have been battling the flu/cold/sore throat thing that has been making its rounds and sadly the Doctor really doesn't seem to know how to help me beat it.  I've been laying low the last few days, trying to take it easy and let the ol' body recover.
One of the perks of slowing down and staying home, meant I had time to cook, photograph and write a blog post.  One of the best things about being a food blogger, is the creativity of it all. Writing a recipe, preparing it, staging it for photos, taking the photographs it really is theraputic. So thank you for following me and allowing me to do this thing I enjoy so much!
Pan Seared Roasted Pork Chops with Fig Sauce
Now on to the recipe.
Are you gearing up for the big February Holiday of L-O-V-E? If a romantic dinner sounds like the way you want to celebrate the holiday, this recipe perfect for you. Simple ingredients, with a beginner cooking level, but you end up with an elegant gourmet and delicious dinner.
Pairing this Pan Seared Roasted Pork Chops with Fig Sauce recipe with roasted asparagus which you cook in same pan you cook the chops in. Leaving the juices from the pork chops to add another layer of flavor to the asparagus. Plus using the same plan makes clean up quicker.
I paired this Pan Seared Roasted Pork Chops with Fig Sauce recipe with a simple roasted Asparagus that cooks while you prepare the Fig Sauce.
Just some of the great things about Asparagus, it is a great source of fiber to help aid in digestion, folate which can help fight depression, and Vitamin A to help your immune system.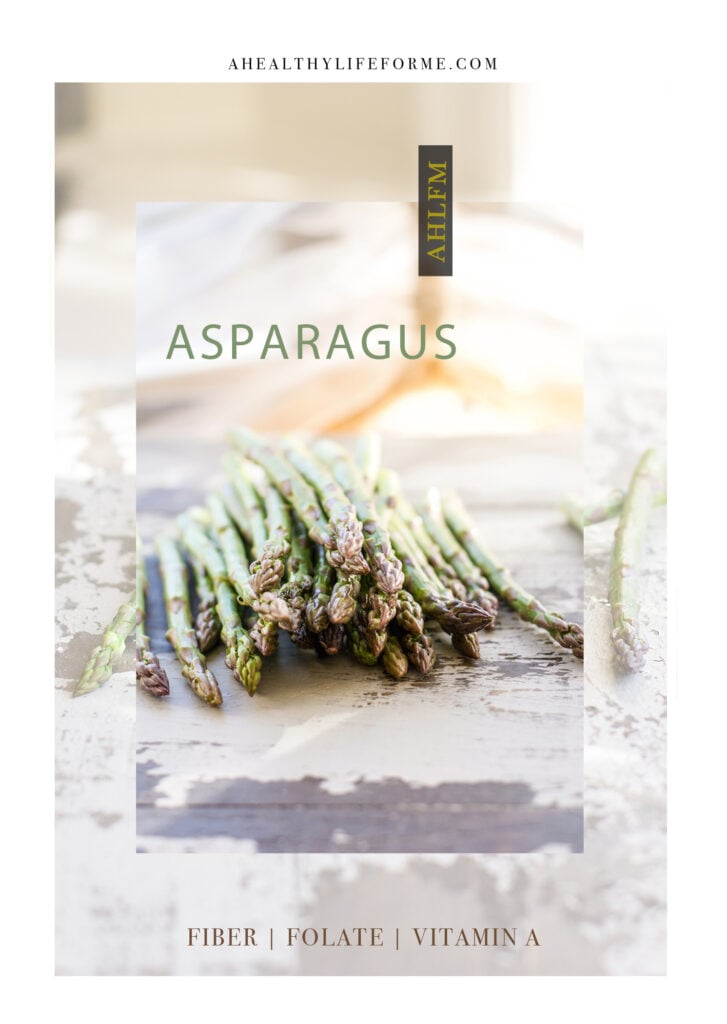 When cooking the chops place in hot pan and cook until golden brown, and pork chops release easily from the pan.  This should take 5 minutes at the right temperature, flip and cook an additional 5 minutes, and then place the whole pan in the oven.  Only cook an additional 10 minutes. If you are feeling unsure if the chops are cooked through enough, take temperature with a thermometer and you want the chops to reach 145°.
Place cooked pork chops on serving plate and loosely cover with aluminum foil to keep warm while you cook asparagus and prepare fig sauce.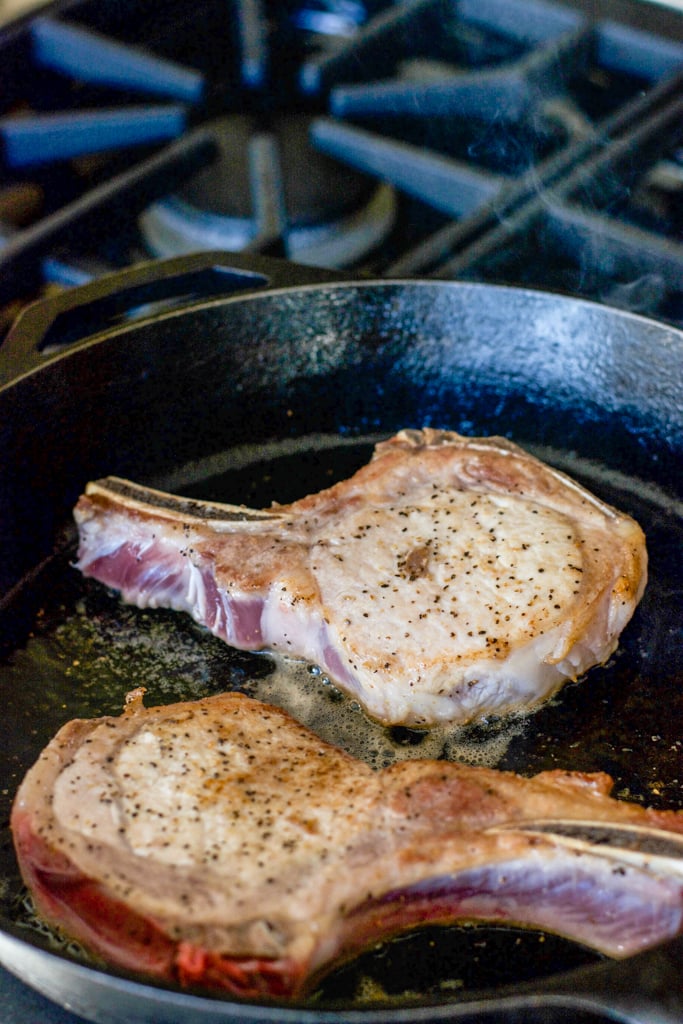 I used a fig spread in a jar vs. buying dried figs and making the fig sauce from scratch because of time, and ease of preparation.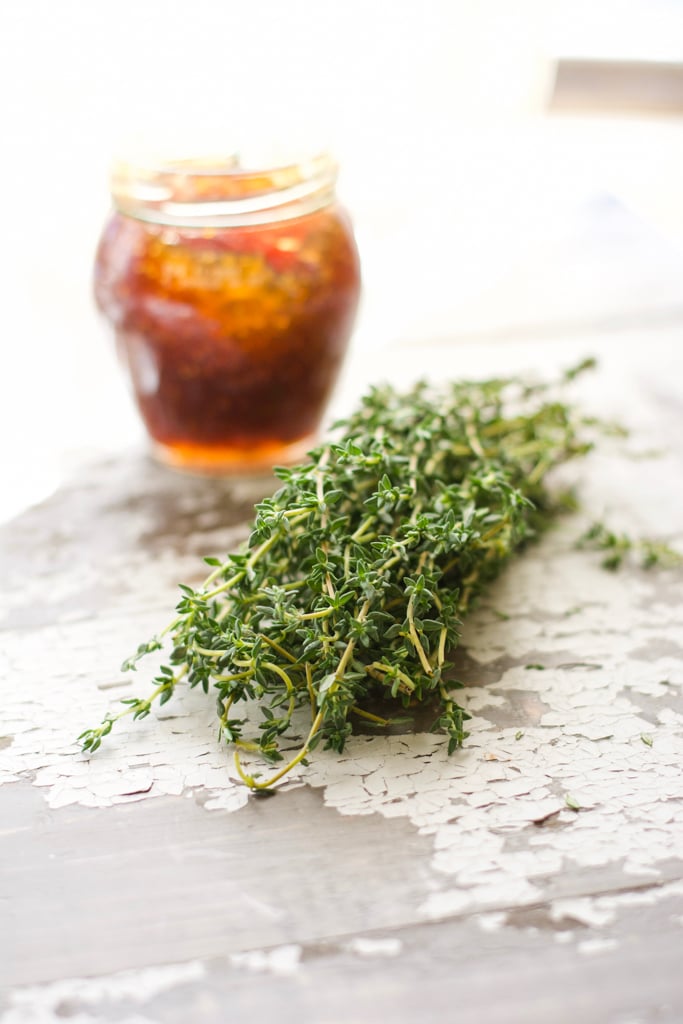 For Dessert I recommend Paleo Death by Chocolate Cupcakes.
Pan Seared Roasted Pork Chops with Fig Sauce
Perfect Dinner for Two. Easy to prepare with limited ingredients
Ingredients
Pork Chops
2

Bone In Pork Chops

1

generous teaspoon

kosher salt

1/4

teaspoon

black pepper

1

tbsp

unsalted butter

1

tbsp

coconut oil
Fig Sauce
3

tbsp

Fig Spread

1

tbsp

unsalted butter

1

tbsp

balsamic vinegar glaze (or reduction)

1

teaspoon

fresh thyme
Asparagus
1

bunch

asparagus

trimmed

1

tbsp

butter

1

teaspoon

kosher salt

1/4

teaspoon

ground black pepper
Instructions
Preheat oven to 400° and set rack in middle of oven

Season pork chops on both side with salt and pepper and set aside

Place cast iron skillet or oven safe skillet over medium-high heat and add 1 tablespoon of butter and 1 tablespoon of coconut oil. Once bubbling add pork chops. Cook 5 minutes or until chops are brown and release from pan. Flip cops and cook an additional 5 minutes

Add pan directly to preheated oven and cook an additional 10 minutes or until chops internal temperature is 145°

Remove pan from oven and place chops on serving plate, cover loosely with foil to keep warm.
Asparagus
Add asparagus directly to hot pan that you just removed chops from. Add 1 tablespoon of butter to top of asparagus and sprinkle with salt and pepper.

Place pan back into oven and cook asparagus for 10 minutes. Asparagus will still be firm, if you like softer cooked asparagus cook an additional 3-5 minutes.
Fig Sauce
In a small bowl add fig spread and butter, microwave for 15 seconds to melt butter. Stir and add balsamic vinegar glaze, stir to mix and set aside until ready to serve chops
Drizzle fig sauce over cooked chops and sprinkle fresh thyme leaves over top.
Categories: