Coconut Lime Grilled Shrimp is an easy, delicious, paleo, gluten free, dairy free recipe.  Ready in less than 30 minutes it is the perfect summer dinner.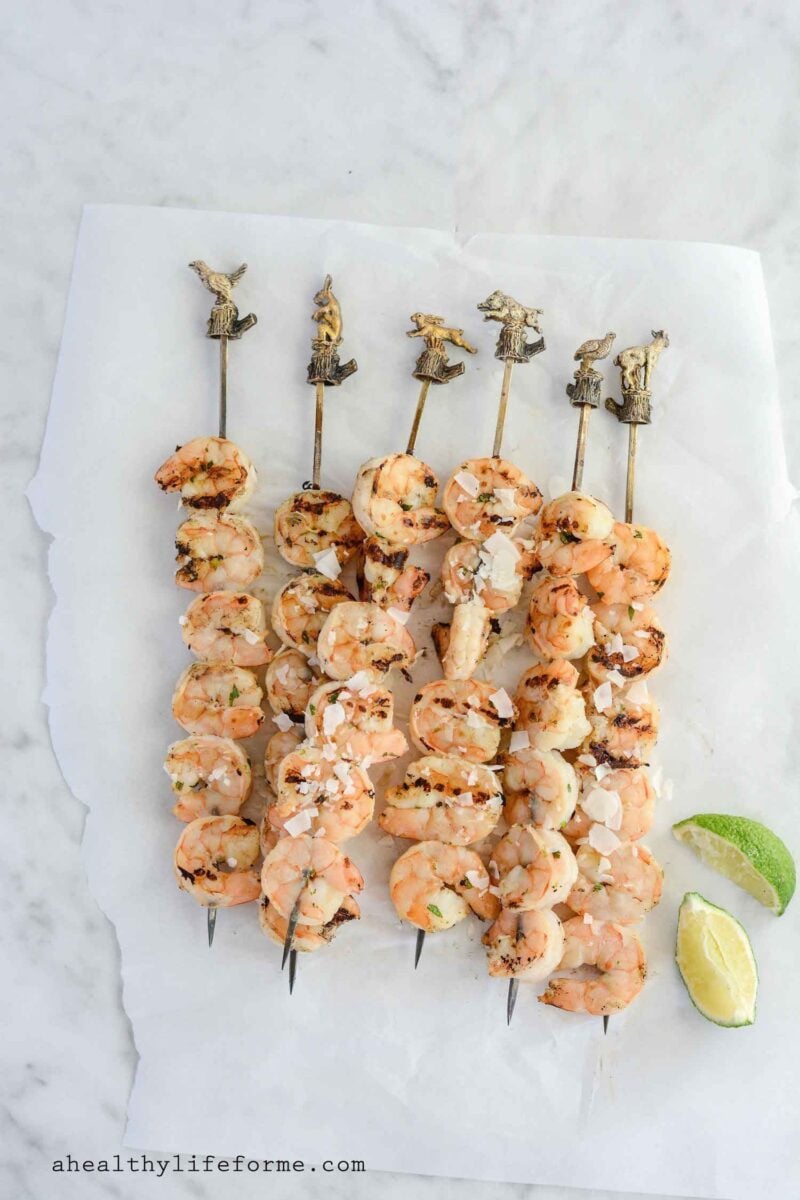 My husband likes to buy me old kitchenware.  He got me a beautiful old silver tea pot that actually has a place under it to hold a candle to keep the tea warm.  I am not a huge tea drinker, and I sure as heck don't have time to sit around pouring tea out of a silver tea pot, but it sure does look pretty in my cabinet.  Recently he brought me home these antique skewers, and I was in love, not only are they beautiful, but I can actually use them.  I just love each animal and the animated detail.  I think my favoite is the boar, because it shows him in a full out sprint.
Another reason to love these skewers is that there is no soaking time.  With wooden or bamboo skewers you have to soak them at least 30 minutes in water so that they do not burn up to a crisp while cooking on the grill.
Skewers are great to use on shrimp because they help to keep the shrimp from falling through the grill grates and make flipping them a breeze.  I love this recipe as a great spring/summer dinner, it is quick and easy to prepare and is great to serve to a crowd.  I used extra large frozen shrimp here, that is about 16-22 per pound, but any size will work, just remember that if you go with a smaller size shrimp you will need more skewers.
As soon as you pull your shrimp off the grill you want to sprinkle them with the coconut so that the coconut flakes soften and adhere to your shrimp.  Serve along side a fresh green salad and you have one easy and healthy dinner.
Do you have any fun old kitchenware that you love?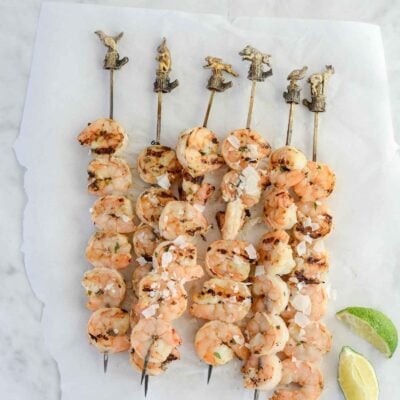 Coconut Lime Grilled Shrimp
Ingredients
1/4

cup

fresh squeezed lime juice

2

tablespoons

reduced-sodium soy sauce

1

tablespoon

organic grated lime zest

1

tablespoon

rice vinegar

1

tablespoon

honey

1

tablespoon

fresh chopped cilantro

1

pound

extra large frozen or fresh shrimp

peeled and deveined

6-8

skewers

depending on length

1/4

cup

flaked unsweetened coconut

1/2

teaspoon

fresh copped cilantro
Instructions
In a ziploc bag combine lime juice, soy sauce, lime zest, rice vinegar, honey, 1 tablespoon chopped cilantro and shrimp.

Marinate for 30 minutes up to 1 hour.

If using bamboo or wooden skewers soak in water while shrimp marinates.

Skewer 6-8 shrimp on each skewer, or however many will fit.

Heat grill to medium high heat.

Place skewers on hot grill and cook 3-4 minutes, until edges of shrimp start to pink up.

Flip and cook an additional 3-4 minutes, or until shrimp is cooked through. You can tell when completely pink and tails close to reach heads.

Remove from heat and sprinkle with coconut and additional cilantro.

Serve and enjoy.
Categories:
You might also like:
Vietnamese Shrimp Edamame Bowl