This Grilled Asparagus with Onion recipe is loaded with flavor, thanks to a simple vinaigrette, blue cheese, black Mission figs, and toasted pine nuts. A perfect summer side dish to wow your guests!
My Favorite Way to Grill Asparagus
As one of the first fresh spring vegetables to make its appearance in the farmer's market, asparagus is a welcome sight in my shopping basket – and there's no better way to cook it than by grilling it outdoors. This easy grilled asparagus recipe gets flavor-blasted with grilled onions, thinly sliced figs, pine nuts, blue cheese, and herbs… it's seriously delicious, and beautiful, too!
This is one of those versatile, amazing side dishes that you really want to keep in your recipe tin, because it is incredibly easy to make. But it looks like it came from an upscale, trendy restaurant! Equally good for a swanky little party, or a casual family dinner.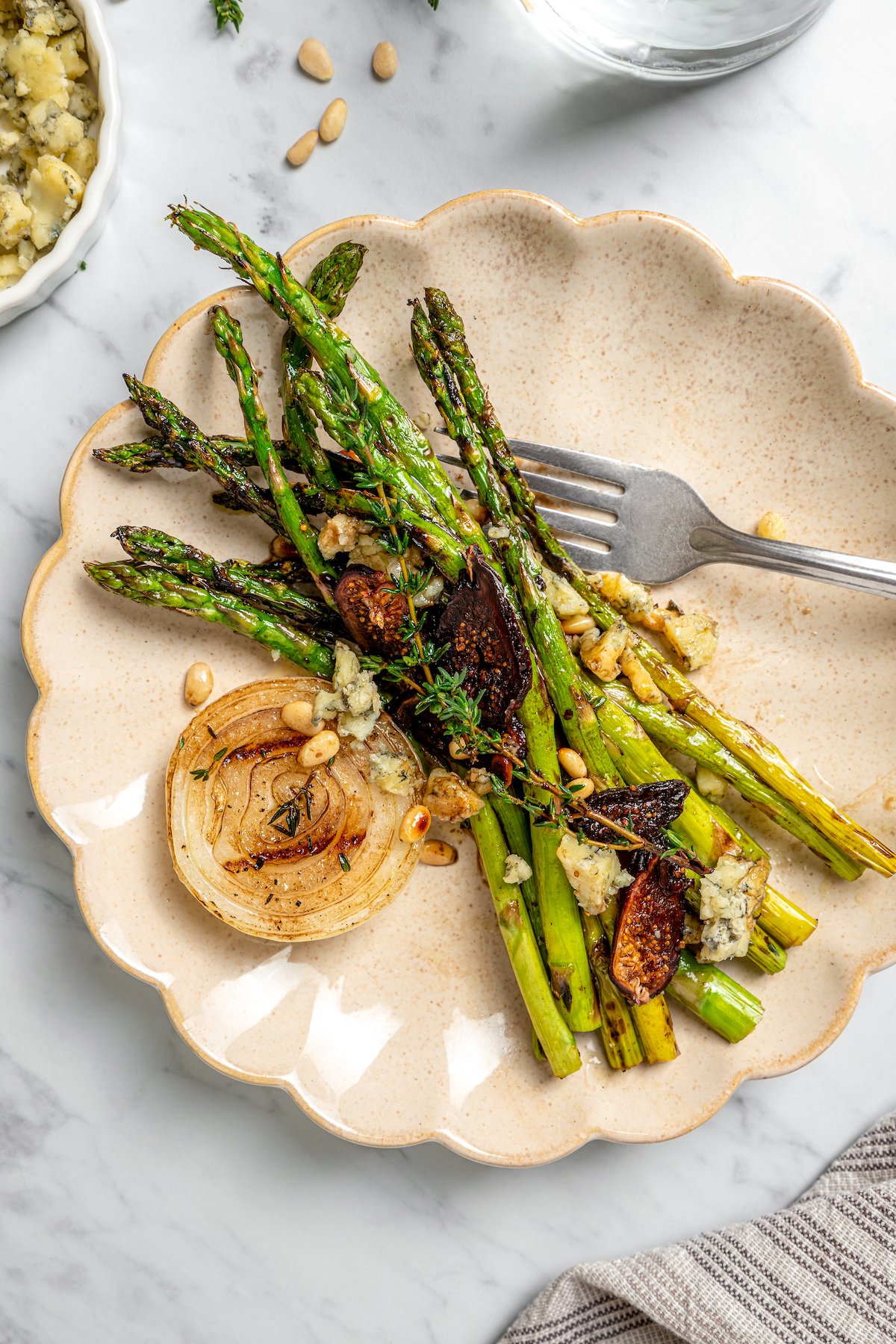 What Are the Health Benefits of Asparagus?
Asparagus is so good for you, in so many ways! It is truly packed with nutrients. Here are just a few things to love about this flavorful green veggie:
Fiber: which aids in healthy digestion, among other things. Fiber and water, guys! Those two together really help keep your system happy.
Folate: A B vitamin that your body uses to help cells divide, and to help generate DNA and other important genetic material. This one's especially important for those who are pregnant.
Vitamins A, C, E and K: In addition to helping your eyes, immune system, skin health, blood health, and so much more, all of these important vitamins are also antioxidants! That means that they can help your body fight cancer, among other things!
Chromium: this is a trace mineral that enhances the ability of insulin to transport glucose from the bloodstream into cells.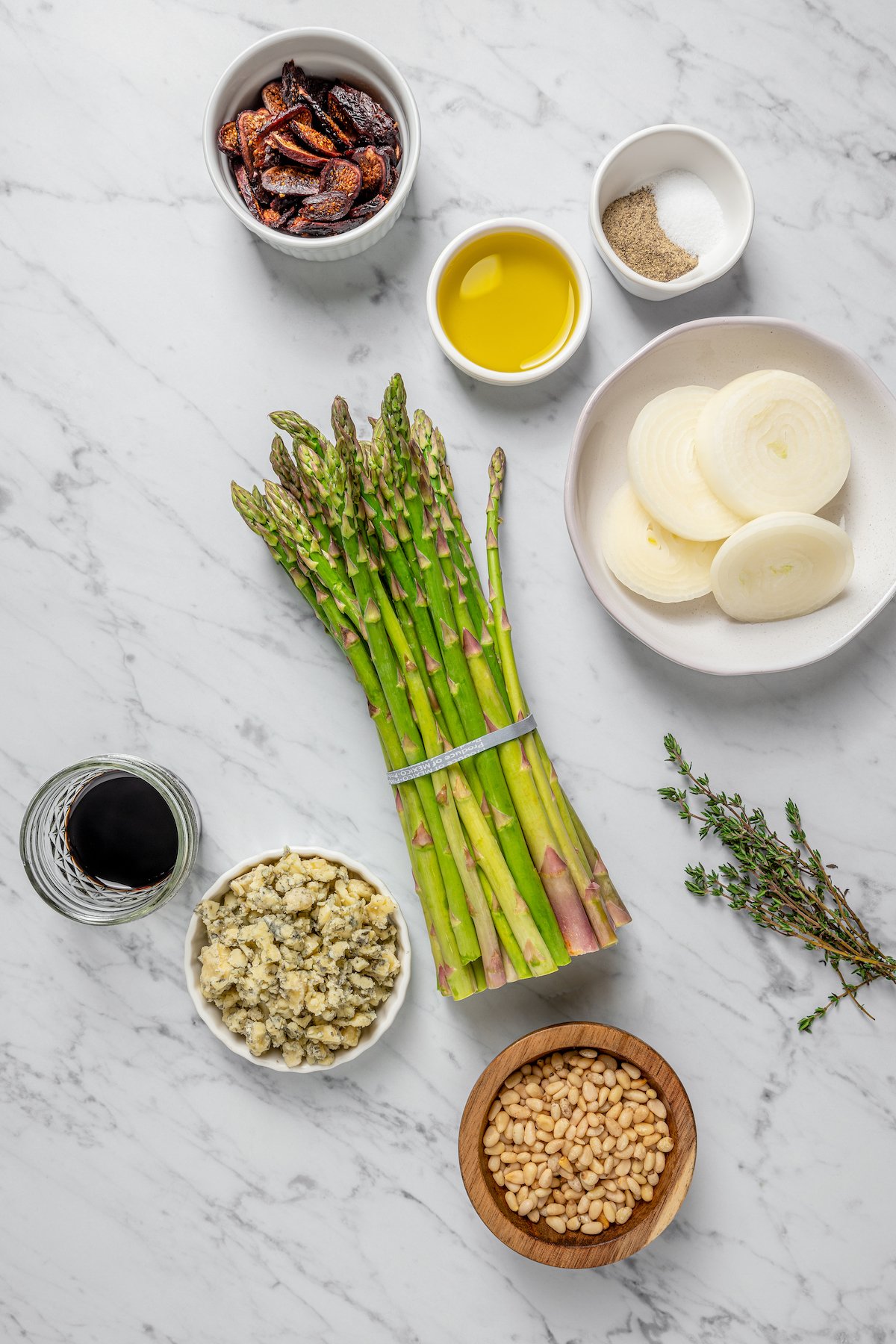 The Ingredients You'll Need
So what will you need to make this super-healthy, super-tasty dish? Let's take a look at those ingredients. Fair warning – this list is mouthwatering!
Asparagus: Trim or snap off the ends of the asparagus if they are tough and woody.
Onion: A sweet yellow onion is my favorite for this recipe. Vidalia onions are especially sweet, if you can get those.
Olive Oil: Some for the blue cheese vinaigrette, and some for drizzling over the asparagus before grilling.
Salt and Pepper
Balsamic Vinegar: This fragrant vinegar makes the vinaigrette extra-bold and scrumptious. (See the Tips section below for an easy substitute, if you're out of balsamic!)
Thyme: Chopped fresh thyme is amazing here, but if you don't have any on hand, use dried thyme instead. Remember that dried herbs are much stronger than fresh, so you only need about 1/3 the amount.
Blue Cheese Crumbles: The strong, intense flavor of blue cheese can be overwhelming for some, while others (literally) eat it up – so feel free to adjust the amount to your taste.
Figs: Thinly slice up some black Mission figs. Yum.
Pine Nuts: Give these a quick toast in a small skillet over medium heat, being careful not to scorch them. You just want to bring out the flavors a little bit.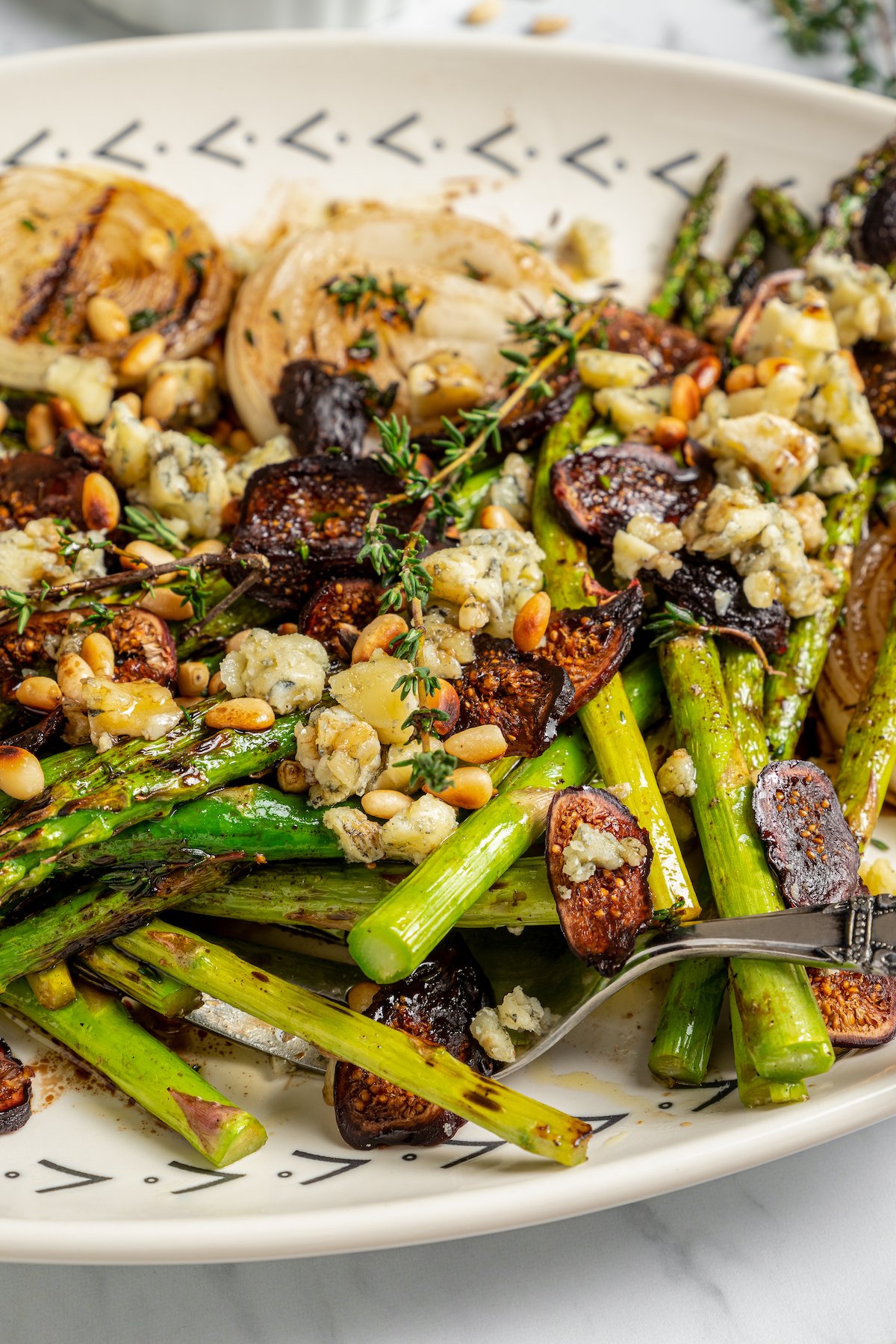 How to Choose Asparagus
When choosing your asparagus, young and tender stalks are considered the best, with stalks that are six to eight inches long, rounded, firm, and thin. The base of the stalk may be woody, but you will snap this off before cooking.
The most common type of asparagus is green, but you might see two others in supermarkets and restaurants: white, which is more delicate and difficult to harvest, and purple, which is smaller and fruitier in flavor. Either of these would also be great for grilling!
No matter the type you choose, asparagus is a tasty, versatile vegetable that can be cooked in myriad ways, or enjoyed raw in salads.
How to Make Grilled Asparagus with Onion
This easy method for grilling veggies is basically fail-proof! All you have to do is season it, grill it, and then add your dressing and toppings. Here's how.
Get Ready to Grill. To get started, heat your grill to medium heat. Meanwhile, place your asparagus and sliced onion on a foil-lined baking sheet, and give them a drizzle of olive oil and a sprinkle of salt and pepper. Toss them a bit to coat.
Grill the Veggies. Next, lay the asparagus and onion on your grill. Cook them until they have nice grill marks on each side. I find that I cook the asparagus for 3 – 4 minutes on the first side, and a minute or two on the second side. Onion slices get five minutes per side.
Make the Vinaigrette. Once the asparagus and onion are grilled, move them back to the baking sheet. Take your vinegar, thyme, and remaining olive oil, and whisk together.
Top the Vegetables. Use half of the vinaigrette to dress the asparagus and onion, tossing to coat. (The other half can be stored in the fridge for salads, etc.) Arrange the vegetables on a serving platter, and sprinkle them with the blue cheese, sliced figs, and pine nuts.
Enjoy! Serve the dish with additional vinaigrette, if desired.
Tips for Success
Even a recipe this easy has some little tricks you should know. Here are a few of my favorite shortcuts and tweaks for grilling up some goodness, asparagus-style.
Baking Method: If you're just not feeling the grill, you can still make this dish indoors. Just bake the asparagus and onion on a baking sheet at 425°F. It will take 6 – 8 minutes for the asparagus, and 10-15 minutes for the onion.
Frozen Asparagus: I love using fresh asparagus here, but if you can find good-quality frozen spears (not cut pieces) then those will work also. Cook them directly from frozen.
Balsamic Substitute: If you don't have balsamic vinegar, you can make a quick substitute by combining two tablespoons of apple cider vinegar or another flavorful vinegar with a teaspoon of honey, pure maple syrup, or sugar.
Yummy Serving Suggestions
If you're ready to try this recipe out, you might be wondering what to serve it with! Here are a few yummy main dishes that would be great with this summery side dish.
Pork Chops: These Pan Seared Roasted Pork Chops with Fig Sauce play off of the figs from the asparagus, making an elegant pairing that's hearty and satisfying, too.
Oven Fried Chicken: A gluten-free alternative to regular fried chicken, this easy Oven Fried Chicken is also less messy (yay!), and just as flavorful.
Salmon: This Roasted Salmon with Clementine really shines next to a fresh green vegetable like asparagus. Together, these make one beautiful, nutrition-packed meal.
How to Store and Reheat Leftovers
Leftover asparagus and onion will keep fresh in your refrigerator for one or two days, stored in an airtight container. Store the vinaigrette separately for up to five days. The toppings should also be stored separately, for maximum freshness.
Can I Freeze This?
You can absolutely freeze grilled asparagus and onion for another time, but I recommend freezing it without adding the vinaigrette or toppings, since those can affect the quality of the asparagus while it freezes. To freeze, just cool the veggies to room temperature, and then pack them in freezer bags, pressing out the air as you seal them up. Freeze for up to two months.
Grilled Asparagus with Onion
This Grilled Asparagus with Onion is loaded with flavor, thanks to a fresh herb vinaigrette, blue cheese, Mission figs, and toasted pine nuts.
Ingredients
1

pound

asparagus

trimmed

1

medium sweet yellow onion

trimmed into 1/2″ slices

1/4

cup

extra-virgin olive oil

+ 2 tablespoons

Pinch

Kosher salt

Ground Black Pepper

2

tablespoons

balsamic vinegar

2

teaspoons

thyme

chopped

1/4

cup

blue cheese

crumbled (more if you like)

6

black Mission figs

thinly sliced

2

tablespoons

pine nuts

toasted
Instructions
Heat grill to medium heat.

Put asparagus and onion on rimmed baking sheet, lined with foil for easy clean up.

Drizzle olive oil over onion and asparagus and sprinkle with salt and pepper.

Place asparagus and onion on grill, turn asparagus after 3-4 minutes, just until you have grill marks. continue cooking a minute or two and transfer back to baking sheet.

Onions will need to be flipped after 5 minutes, grill on other side an additional 5 minutes.

Transfer to baking sheet along with the asparagus.

In a small bowl whisk vinegar, thyme and remaining 1/4 cup of olive oil.

Toss asparagus, onions and half vinaigrette together.

Place on serving platter and top with cheese, figs and pine nuts.

Add more vinaigrette to your taste.

You can reserve additional vinaigrette for salad.
Notes
You can also bake the asparagus and onion on a baking sheet at 425°, 6-8 minutes for asparagus and 10-15 minutes for onion.
Categories:
More Easy Asparagus Recipes