Over last winter all four of my beehives died.  Liz who is my beekeeping teacher and helper lost almost 3/4 of all her hives.  We weren't sure what happened.  I knew in late fall right before winter that the hives were gone.  There was no activity and a quick peek inside showed empty hives.  When we opened up the hives this spring, there were still honey and dead bees stuck with their heads in the comb.
We aren't alone in the mysterious death of our bees.  Hives that started out so strong last spring were dead before the first snowflake fell.
American beekeepers have been struggling with the mysterious colony collapse disorder over the last decade, but last year was particularly bad.
The New York Times wrote an article about it in March and reported that commercial beekeepers reported 40-50% of their hives were wiped out.  Scientists are studying the disorder since 2005 and can't seem to come up with a conclusive explanation.
However, the Times article stated some interesting facts that beekeepers and researchers have been saying for a few years now, that a new class of pesticides knows as neonicotinoids that are incorporated into the plants as seeds may be playing an important factor in last years mass colony collapse.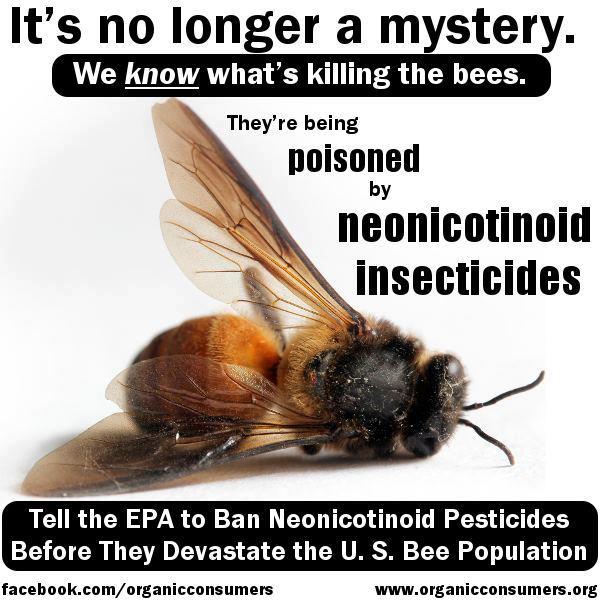 What are Neonicotinoids?   Neonicotinoids or Neonic as farmers call them are a class of neuro-active insecticides chemically related to nicotine.
They are systemic pesticides, often embedded in seeds so that the plant itself carries the chemical that kills insects that feed on it.
Here is an example on what may be happening, the pesticide Neonic is incorporated into a Sunflower seed and the seed grows and flower sprouts and the bees come to the flower to collect pollen and nectar that they then take back to the hive to feed themselves, and their larvae.  It is a concentrated day in day out shot of pesticide for the bees.  It would be like you digesting a bit of poison everyday.  Your nervous system would begin to shut down and paralysis would happen and then death.  Which is what is seems to be happening to the bees.
The explosive growth of neonicotinoids since 2005 has roughly tracked rising bee deaths.
Two quotes from commercial beekeepers in the New York Times article, mirror what Liz and I have seen here in Cincinnati.
"They looked so healthy last spring," said Bill Dahle, 50, who owns Big Sky Honey in Fairview, Mont. "We were so proud of them. Then, about the first of September, they started to fall on their face, to die like crazy. We've been doing this 30 years, and we've never experienced this kind of loss before."
Bret Adee, who is an owner, with his father and brother, of Adee Honey Farms of South Dakota, the nation's largest beekeeper, described mounting losses.
"We lost 42 percent over the winter. But by the time we came around to pollinate almonds, it was a 55 percent loss," he said in an interview here this week.
"They looked beautiful in October," Mr. Adee said, "and in December, they started falling apart, when it got cold."
 While the pesticide Neonic is not the only culprit to the decline of the bee population, beekeepers still believe there are other culprits such as other pesticides, fungicides and herbicides that are used to control pests.
Whatever the culprit may be we need to take the loss of our bees seriously.  The Agriculture Department says a quarter of the American diet, from apples to cherries to watermelons to onions, depends on pollination by honeybees. Here is a complete list of foods that are pollinated by bees. Fewer bees mean smaller harvests and higher food prices.  We need our precious bees to eat many of the foods we love.
What can you do?  DON'T SPRAY PESTICIDES OR HERBICIDES!  I know this may mean more work out in the garden, but I truly believe spending time in the garden even if it is pulling weeds or picking slugs off your plants is good for the soul.  Plant "bee friendly" plants in your garden.  You can find a good list of plants that might work for you in your garden at the daily green.