I had to come up with this cocktail mostly so I could show you my cute little cartoon.  Using it as my inspiration, I ended coming up with a truly yummy, fruity, witchy brew!  Another dangerous Halloween concoction.
Double double toil and trouble; Fire burn and cauldron bubble.
This cocktail was definitely made by a good, white witch.  No black magic here!  uh-uh no way, no matter what my husband says!
  Cackle-Cackle.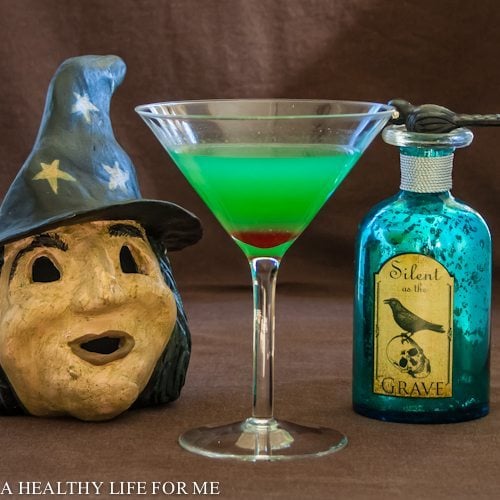 Round about the cauldron go;
In the poison'd entrails throw.
Toad, that under cold stone
Days and nights has thirty-one
Swelter'd venom sleeping got,
Boil thou first i' the charmed pot.
Macbeth
Witch's Brew Cocktail
Ingredients
1½ ounce Coconut Tequila
2 ounces Pineapple-Orange Juice
½ ounce Blue Curacao
Marichino Cherry
Fresh Ice
Instructions
In a martini glass place cherry.
In a shaker place ice and ingredients, shake and pour, my pretties.