This is a sponsored post written by me on behalf of Hormel Foods for IZEA. All opinions are 100% mine.
Beef Pho Noodle Soup is a simple delicious quick weeknight dinner for the whole family that is ready in less than 20 minutes.  Beef soup loaded with thinly sliced beef, rice noodles topped with loads of fresh jalapeno, bean sprouts, green onion, cilantro, avocado and lime juice.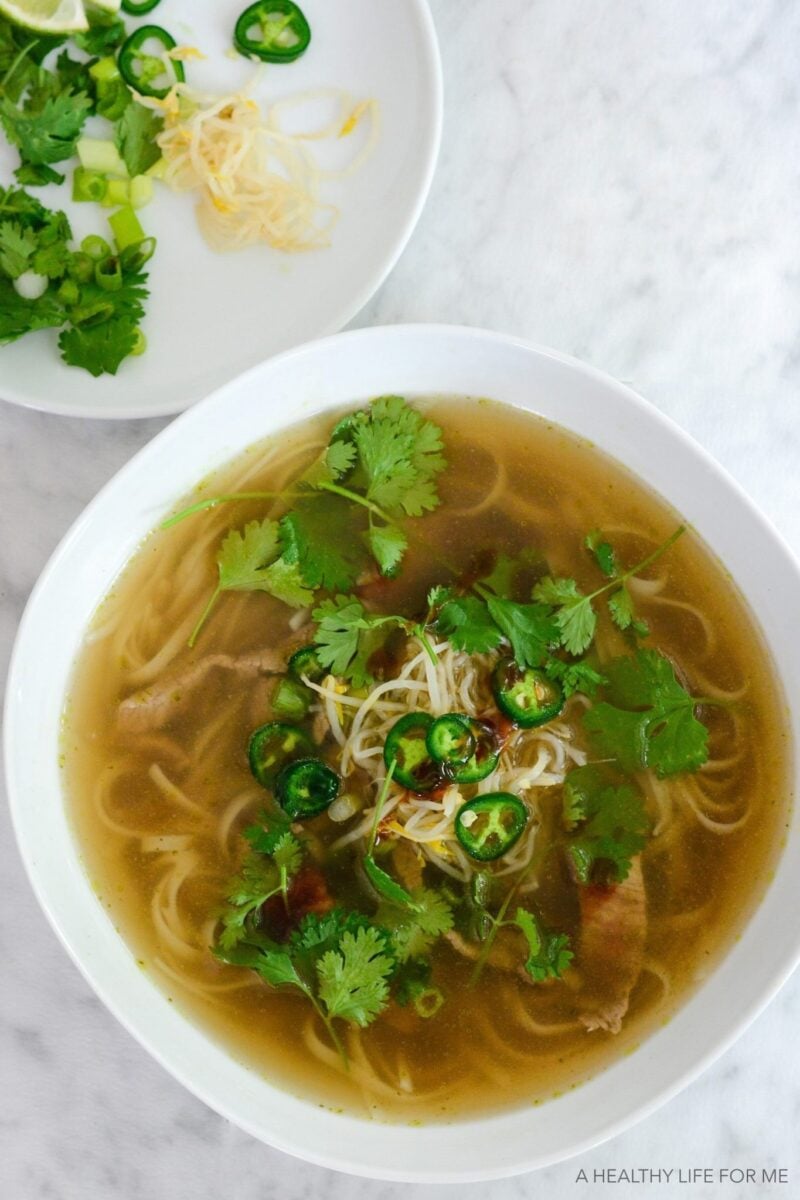 This recipe came together because of a family outing for Sunday lunch.  We went to our local farmers market all four of us a bit tired, and a lot hungry wanting to just enjoy the summer sun and grab a bite to eat before we perused the local produce.
We wandered into a Vietnamese restaurant that busting at the seams with customers (always a good sign) and decided why not.  Went to our table and asked our waiter what their specialty was, and we were told their Beef Pho soup was the bomb.  Four bowls were ordered, four people were happy.

Pho is a popular street food in Vietnam that consists of a complicated broth that simmer for hours upon end before it can be eaten.  Our Vietnamese restaurant boasted 20 hour beef broth in its title.
Who has time for 20 hour beef broth?  Not me, and I bet not you.
With so many organic broth choices available at the market these days, you know I thought let's make this quick and easy so I can serve it to the whole family any night the week.  I am all about getting us together as often as possible to enjoy family dinners.
What is so great about Pho soup is that it is topped with an assortment of fresh vegetables that can be chosen based on your tastes.  My husband and oldest like it a bit more spicy so plenty of jalapeno slices are dumped into their bowls, where me and my youngest like it a bit more mild and sprouts, cilantro and avocado are added to ours.
Even your picky eater will not turn up their nose at a bowl full of noodle soup.
We all enjoyed a drizzle of  House of Tsang Stir Fry Sauce that was perfect drizzled on each bowl to give it a great asian flavor wow factor.  This stuff is a great way to add flavor to any of your stir fry, vegetables or meats.
If you make this recipe, please let me know! Leave a comment below or take a photo and tag me on Instagram or Twitter with #ahealthylifeforme.
September is National Family Meals Month and we all  need to sit down more often at the dinner table and enjoy weeknight dinners together.
It is so important for all of us to unplug from the hustle of our life and reconnect as a family.  The dinner table is the perfect place for this to happen.
We have always made it a point in our house to have at least four nights a week where we sit down to dinner as a family.  Yes, this is hard, but it is oh so important.  Not just for our physical health, but for our mental health.
If you are looking for support information, recipes, savings/coupons or ideas to help get your family around the dinner table more often Visit Hormel Foods   Their Easy Recipe Ideas are sure to encourage you and the whole family to get involved in making dinner.
Need a little more motivation to work on eating dinner as a family?
Here are four facts that might help:
1. There's clear evidence the structure of a meal can heavily influence a child's long-term health. Kids and teens who share meals with their family three or more times per week are significantly less likely to be overweight, more likely to eat healthy foods and less likely to have eating disorders. Berge, J. (2015). The protective role of family meals for youth obesity: 10-year longitudinal associations. The Journal of Pediatrics, 166 (2).
2. With each additional family meal shared each week, adolescents are less likely to show symptoms of depression, less likely to use/abuse drugs and less likely to engage in delinquent acts. Meier, A. and Musick, K. (2014). Variation in associations between family dinners and adolescent well-being. Journal of Marriage and Family, 76 (1).
3. A recent study also shows that children who grow up sharing meals as a family are more likely to exhibit prosocial behavior as adults, such as sharing, fairness and respect. De Backer, C.J. (2014). "Our" food versus "my" food. Investigating the relation between childhood shared food practices and prosocial behavior in Belgium. Appetite, 84 (January 2015).
4. Adolescents who participate in even one or two family meals per week are less likely to be overweight or obese in adulthood compared to adolescents who never participate in family meals. Neumark-Sztainer, D. (2010). Family meals and adolescents: what have we learned from project EAT (eating amount teens)? Public Health Nutrition, 13 (7).
Are you following me on Instagram, Twitter, Facebook and Pinterest? Thanks for reading and subscribe to A Healthy Life For Me to have each post delivered straight to your e-mail box.
Beef Pho Noodle Soup
Beef Pho Noodle Soup is a simple delicious quick weeknight dinner for the whole family that is ready in less than 20 minutes. Beef soup loaded with thinly sliced beef, rice noodles topped with loads of fresh jalapeno, bean sprouts, green onion, cilantro, avocado and lime juice.
Ingredients

Beef Broth:
64

ounces

of organic beef broth

5

star of anise

1

cinnamon stick

Beef
1/2

pound

round steak or sirloin steak

sliced paper thin

Pinch

of kosher salt

Pinch

of black pepper

Toppings:
1-2

jalapeno peppers

sliced (remove seeds for less heat)

1

cup

bean sprouts

1

large bunch of cilantro

1

large lime

cut into wedges

1-2

stalks scallions

trimmed and diced

1

large avocado

peeled seeded and sliced

Tsang stir fry classic sauce

Tsang stir fry szechuan spicy sauce
Instructions
Add beef stock, star of anise, cinnamon to a large stock pot and bring to a low simmer

Cook rice noodles according to package directions

Sprinkle salt and pepper over thinly sliced beef.

Remove star of anise an cinnamon from stock. Spoon stock into bowls and add thinly sliced beef and a serving of noodles.

Top each bowl with desired vegetables and a squeeze of lime.

Divide the broth between four to six large bowls, then add thinly sliced beef and desired amount of noodles.

Top with bean sprouts, sliced jalapeños, fresh cilantro, avocado and serve with lime wedges.

Add a drizzle of Tsangs stir fry sauces to your desired taste.

Serve and Enjoy.
Categories: