This easy, wholesome Brazilian Beef Stew is a hearty recipe with layers of flavor from black beans, peppers, wine, and coffee! Its savory goodness will be a hit with even picky eaters.
A Simple Beef Stew Recipe with Big, Bold Flavor
Ah, cookbooks. You never know what you'll find in them! I first stumbled across this short, unique recipe in The Silver Spoon cookbook and the idea of coffee and wine immediately got my attention. I had never put those two ingredients in the same dish. Made me wonder, who thought it up?
Since I was still dealing with the pepper surplus from my garden, I thought I would give it a try. Adding the beans at the end was a moment of inspiration – I just thought it needed a little bit more substance to make the family happy, so in went two cans of black beans, and the boys all gave it a thumbs up. It was such an easy meal that it quickly became a staple in my winter meal plans.
Ingredients
Aside from wine, coffee, black beans, and beef, you only need a few items to round out this hearty, protein-rich meal. Here's the list of healthy ingredients (and remember, for the full, printable recipe card, head on down to the end of the post).
Olive Oil: Or another cooking oil of your choice.
Stew Beef: Cubed stewing beef is what you want here, nothing too lean or tender. Lean and tender cuts will dry out and become tough if you try to stew them.
Onion: A generous amount of thinly sliced onion adds to the stew's signature boldness. You can use any kind of onion.
Garlic: Mince or press a few garlic cloves.
Peppers: I used the purple ones from my garden, but green would be fine, too. Dice 'em up!
Poblanos: These have a little more kick than bell peppers, but they aren't very hot at all. They do add a nice, smoky, earthy note.
Flour: All-purpose flour helps thicken the stew.
Wine: Most beef stew recipes call for red wine, but this one uses dry white wine.
Coffee: Yep, brewed coffee is part of the recipe – and it gives the broth a luscious complexity.
Black Beans: Feel free to leave them out, but we loved them! Drain and rinse before using.
Salt and Pepper
Cilantro and Shredded Cheese: Optional, for toppings. I like shredded Mexican cheese blend for this.
Rice: Also optional, for serving.
Let's Make Brazilian Beef Stew!
To make this dish, you just need a large Dutch oven or soup pot and an hour or so. Brazilian beef stew is easy to cook on the stovetop, and makes the whole house smell amazing!
Brown the Beef. To create your first layer of flavor, heat up some oil in your Dutch oven or pot, and brown the beef chunks in the oil. Once they're browned all over, use a slotted spoon to carefully transfer the beef to a clean plate, and cover it to keep warm.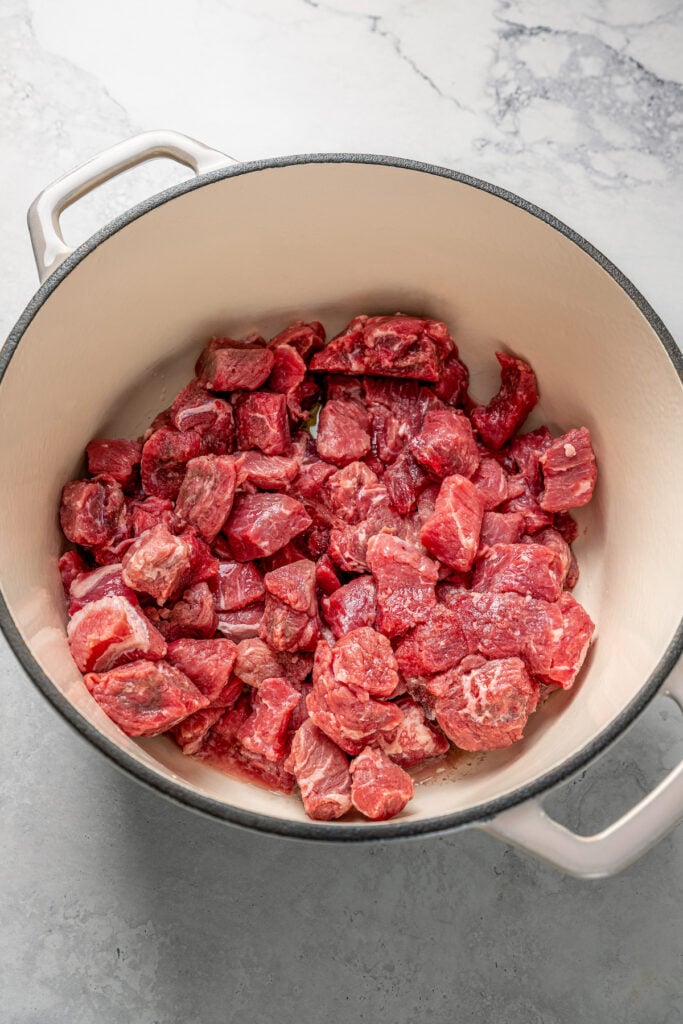 Saute the Veggies. Next, add your onions, garlic, and peppers to the pot. Stir them around and let them cook on low heat, stirring now and then, for about 10 minutes.
Add the Flour. Sprinkle flour over the vegetables, and then stir them well to coat them well. Cook and stir for 2 – 3 minutes.
Add the Liquids. Once the flour has cooked a bit, stir in the wine and coffee. Bring this to a boil, stirring to incorporate everything really well.
Simmer the Meat and Beans. Now you can return the meat to the pot, and add the beans as well if you're using those. Season the stew with salt and pepper, and then cover the pot. Let everything cook for about one hour, or until the beef is tender. (If you plan on freezing the stew, leave the beans out and add them when you reheat the frozen dish.)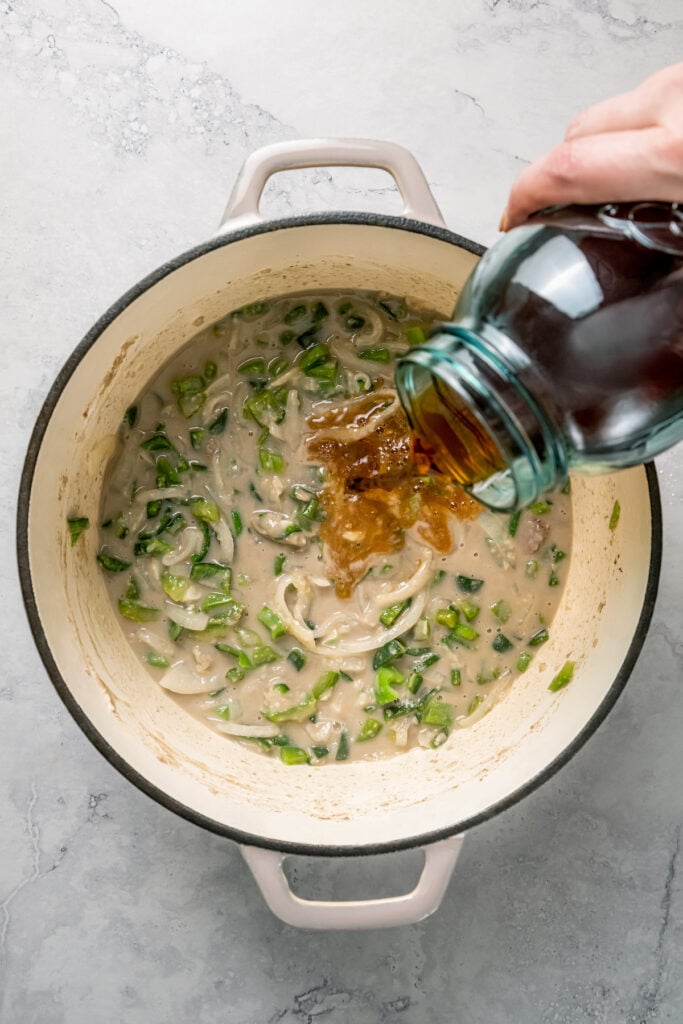 Enjoy! Serve your Brazilian beef stew with chopped cilantro and shredded cheese, over rice – or enjoy it just as it is.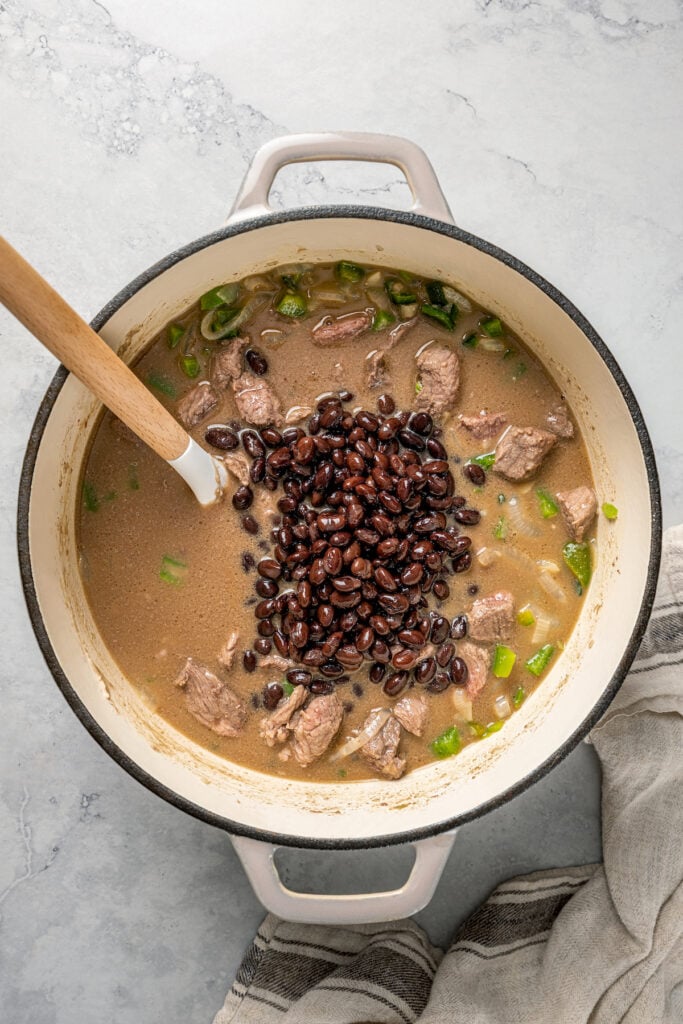 What Is the Secret to Tender Beef Stew?
If you are looking for the secret, passed-down-from-generations, no-fail way to make tender beef stew, this is it:
Use the right cut of beef, and cook it for a long time.
That's it! Truly, beef stew is so easy – you really just need to make sure that you use beef that's meant for stewing. It should be labeled beef stew, stew beef, beef for stewing, something like that. Beef chuck is the classic, although brisket, bottom round, and other cuts will work as well.
You also need to cook the beef until it's tender. Don't worry too much about overcooking it. This isn't a problem with stew beef like it is with steak. Just check it at around the 45 minute mark, the 1 hour mark, and the 1:15 mark. (Some beef may be tough enough to need two hours of cooking or even more, depending on the size of the pieces). Stew beef is super tough at first, but once it has cooked for long enough, it falls apart beautifully.
Tips for Success
Like most soups and stews, this recipe is very versatile. You can change things up in a lot of ways and it will still turn out fantastic. Need some ideas to make it your own? I've got you covered!
Beans: Other types of beans, such as pinto beans, garbanzo beans, or white beans, could be used instead.
Vegetables: You could definitely add more veggies toward the end of the cooking time, if you like! Mushrooms, carrots, green beans… whatever you like!
Stew Beef: To make your own stew beef chunks, just use a chuck roast, rump roast, or other pot roast cut of meat, and use a sharp chef's knife to cut it into pieces. The pieces should be an inch to an inch and a half.
Heat: You can replace the poblanos with roasted bell peppers if you really don't like spicy dishes, or add some jalapeno if you want to dial up the heat a bit.
Serving Suggestions
To serve, I like to have a bowl of my favorite rice ready to go. You could also serve this dish plain, or with a couple of easy sides. Any one of these simple sides would be great.
Perfect Rice: Yellow rice, Spanish rice, brown rice… I've never met a bowl of rice I didn't like, but this basic Jasmine rice is honestly my favorite. We call it Perfect Rice!
Sweet Potato: Bake up some sweet potatoes and serve them with butter, or – for a little crunchy goodness – make a batch of Sweet Potato Tater Tots! Fair warning: these are absolutely irresistible.
Salad: Give your meal some contrast with this summery Tomato Cucumber Salad. It's light, juicy, colorful, and refreshing.
How to Store and Reheat Leftovers
Leftover Brazilian beef stew will keep in your fridge for about four days. It should be stored in an airtight container for maximum freshness.
To reheat, just warm up your desired portion in a saucepan on the stove, over medium heat. You could also microwave it in a microwave-safe bowl, if you prefer.
Can I Freeze This?
Sure! If you are planning to freeze Brazilian beef stew, don't add the beans – they don't handle freezing and thawing too well. Just make the recipe without them, and cool it down before freezing. Stored in freezer containers, it will stay good in the freezer for up to three months. Defrost it in your refrigerator before reheating. Add the beans as the stew heats, if you like.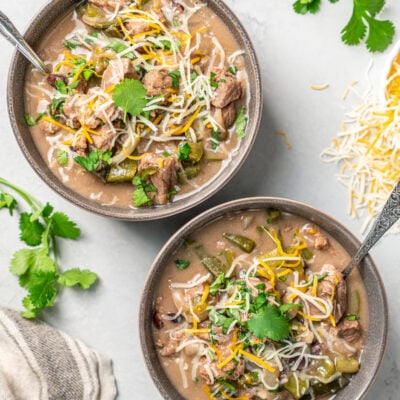 Brazilian Beef Stew
This easy, wholesome Brazilian Beef Stew is a hearty recipe with layers of flavor from black beans, peppers, wine, and coffee! Its savory goodness will be a hit with even picky eaters.
Ingredients
2

tablespoons

olive oil

3 1/2

pounds

stew beef

cubed

2

medium onions

thinly sliced (4 cups)

3

garlic cloves

minced

2

small green bell peppers

I used the purple ones from my garden, diced

2

small poblano peppers

diced

1/2

cup

all-purpose flour

1/2

bottle

dry white wine

2

cups

brewed coffee

2

cans

black beans

(15 ounces each) drained and rinsed

1

pinch

salt

1

pinch

pepper

Toppings:
2

tablespoons

cilantro

chopped

Shredded Mexican cheese

optional

Cooked rice

optional
Instructions
Heat the oil in a large Dutch oven or soup pot, add the meat and cook, stirring frequently, until browned all over. Remove the meat and keep warm.

Add onions, garlic and peppers to pot and stir to coat with meat juices and cook over low heat, stirring occasionally, for about 10 minutes.

Sprinkle in the flour and cook, stirring constantly, for 2-3 minutes. Gradually stir in wine and coffee and bring to a boil, stirring constantly.

Return meat to pot, season with salt and pepper to taste.

Add beans, cover, and cook for 1 hour or until the meat is tender.

(If you plan on freezing, do not add beans. Continue to cook until tender, cool completely, package, and freeze. When reheating, add beans, and serve)

Ladle stew into bowls, sprinkle with chopped cilantro and cheese. Can be served over rice or as is.
Notes
If you plan on freezing this recipe, do not add the beans. Instead, cook the stew without them, cool, package, and freeze. When you reheat the stew, add the beans at that time.
Categories:
More Easy Beef Recipes