Looking for Easter dinner ideas for your holiday celebration this year? I've pulled together some of our most popular healthy Easter dinner recipes you'll love! to create your perfect Easter dinner menu.
Here are some delicious Easter recipes to create your perfect Easter dinner menu. From a spicy deviled egg recipe for starters to a mouthwatering carrot cupcake recipe that will make your guests want to lick their fingers I've got you covered.
Elevated Easter Dinner Menu
There's nothing ordinary about these recipes. Each dish adds a dash of amazing and will impress even the pickiest of critics.
The tuna lemon aioli bruschetta is a perfect appetizer that is both flavorful and light. The creamy tuna lemon aioli pairs perfectly with the crunch of the bruschetta.
The main course is a delicious and healthy blueberry grilled pork tenderloin. This dish is simple to make but full of flavor. The tenderloin is juicy and tender, and the fruit adds a sweetness that perfectly complements the pork.
Serve some lemon green beans on the side for a healthy and light side dish. Or maybe you'd rather make a delicious shaved Brussel sprouts slaw? If you can't choose, make both! They're simple and the flavors complement each other.
Dessert is either a decadent and delicious carrot cupcake with cream cheese frosting or a fresh lemon raspberry cupcakes. These cupcakes are moist, flavorful, and perfect for any Easter celebration.
With this elegant Easter menu, you'll have a celebration to remember!
Easter Dinner Recipes
Spicy Deviled Eggs
These spicy deviled eggs are savory take on the traditional deviled egg and elevate it. They are made with goat cheese, Sriracha and prosciutto and are a big crowd pleaser.
You can make the day ahead and refrigerate them overnight to pull out and serve as an appetizer before dinner.
Tuna Lemon Aioli Bruschetta
Tuna lemon aioli bruschetta is a gourmet appetizer that is sure to impress. A bit spicy, a bit tangy, and a whole lot delicious.
Lemon Green Beans
These lemon green beans make a home cook's life easy, especially when you're cooking for a crowd.
I always choose French green beans because they cook up tender and have a softer flavor. After a quick blanch, you can store these beans in the refrigerator overnight to pull out and dress quickly before serving.
Brussels Sprout Slaw
This Brussels sprout slaw dish pleases even those that aren't Brussels sprout fans. If you are looking for a hearty, delicious and beautiful way to serve sprouts, this is your dish.
Blueberry Grilled Pork Tenderloin
The center of attention at your Easter buffet needs to be this gorgeous blueberry grilled pork tenderloin. It's a simple and delicious dinner recipe that is gluten free, dairy free, and paleo.
Stuffed Baked Steak
What happens when you take a sirloin steak, pound it, stuff it, wrap it up and bake it? You get this impressive stuffed baked steak! This delicious main dish takes 10 minutes to prepare and will become a family favorite. Gluten Free, Grain Free, and Soy Free.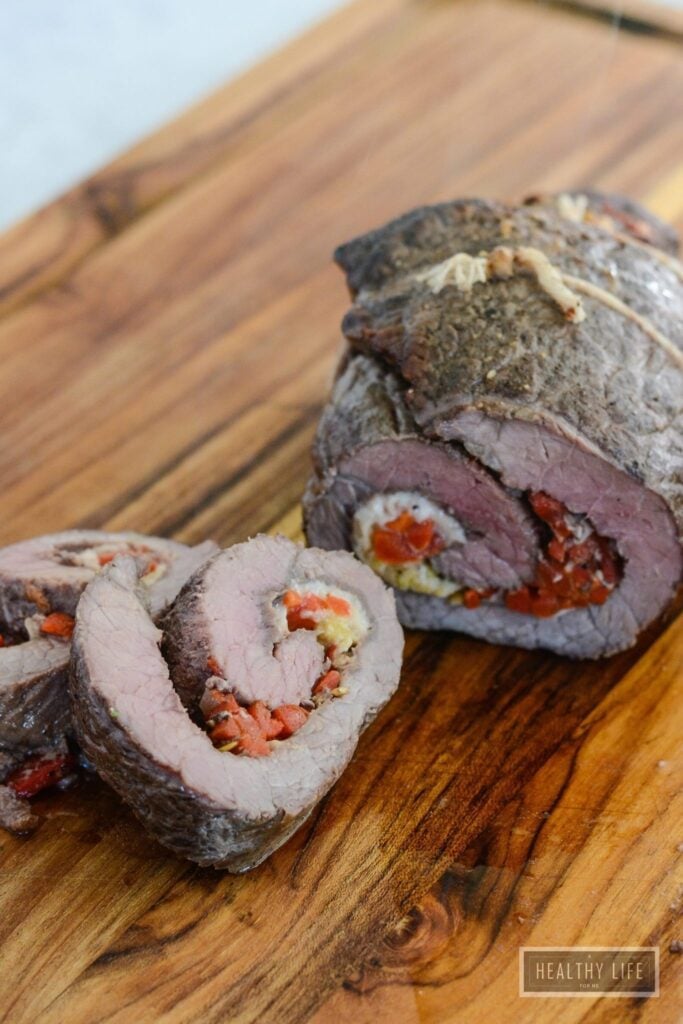 Carrot Cake Cupcakes
You can't serve Easter dinner without Carrot Cake, that is unless you are serving carrot cupcakes with cream cheese frosting.
Lemon Raspberry Cupcakes
For those that don't want carrot cupcakes, offer them these Lemon Raspberry Cupcakes topped with a delicious cream cheese frosting, shredded coconut and fresh raspberry.
A great way to please a crowd is to serve an assortment of cupcakes. They can be made a few days in advance and decorated the day of or even made and frozen a few weeks before your dinner.
Which of these dishes will you serve?