These Easy Black-Bottom Cheesecake Cupcakes are creamy bites of creamy cheesy fruity delight.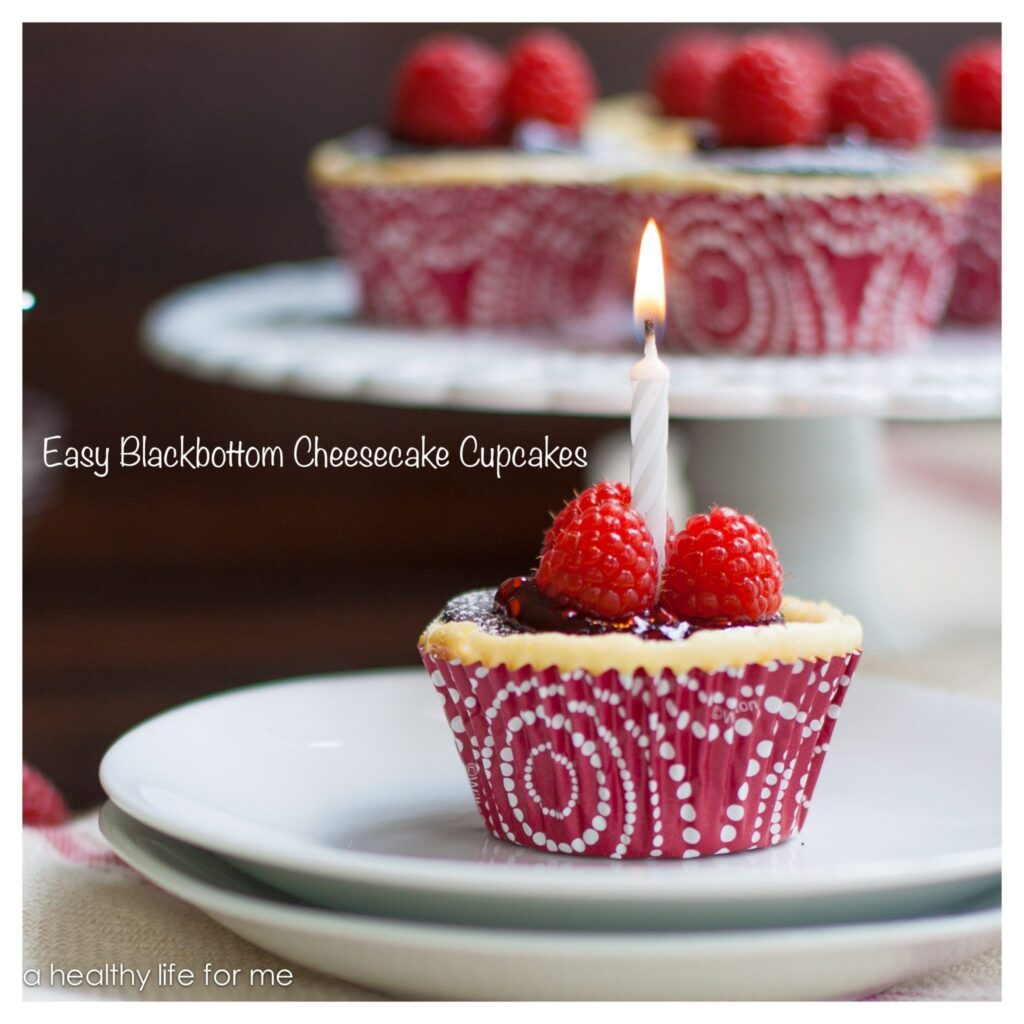 Twenty-one years ago today I gave birth to my first son.
It is amazing how you become a parent one day and you have no idea what the future will hold. You are optimistic about the new life you just brought into the world and you recognize how fragile and precious the little person is, and you just want to be the best parent possible.
As I raised my sons, I remember when other parents of older children and grandparents would tell me "enjoy them while they are young, they will be grown before you know it."
I would think oh-yea sure, I just want to sleep through the night or I can't wait until they are potty trained.
Then later I just wanted Geometry and Middle School to be over. There are several things that challenge a parent while bringing up a child, but then one day your child graduates High-School and leaves the house, either for college or for life on their own.
I ran up against the same old sayings from those older parents and grandparents, "you will be so sad when your child leaves the nest." Nah I thought, "I would be excited about my child's new chapter in his life, not sad"
Boy-oh-boy was I wrong.
Of course I was excited for him, but when it was time to climb in the car and make the 10 hour drive home, knowing I was going to be leaving him behind and wouldn't see him for several months, I gulped back an avalanche of emotions.
I climbed into the car made it about a block before the flood-gates opened and I knew a little piece of my heart was left behind.
Now it's been three years and my son is turning twenty-one today and he has grown into a man.
The rewards of watching your child grow, stumble, overcome and achieve their dreams, vanquish every difficult or sad moment as a parent.
Including watching them leave the nest. Which leaves you to become the parent that gives the advice "enjoy them while they are young, they will be grown before you know it."
So this Easy Black-bottom Cheesecake Cupcake recipe is for the man who I raised that I am proud to call my son. Happy Birthday, love you Mom
Easy Black-bottom Easy Cheesecake Cupcakes
These Easy Black-Bottom Cheesecake Cupcakes are creamy bites of creamy cheesy fruity delight.
Ingredients
1 9

ounce

Chocolate Wafers

I used Nabisco Famous

3

tablespoon

unsalted butter

melted

2- 8

ounce

containers of Cream cheese

1

teaspoon

vanilla extract

1

cup

granulated sugar

2

eggs

room temperature

1

cup

raspberry jam

warmed up

36

fresh raspberries

powdered sugar for dusting
Instructions
Preheat oven to 350 degrees.

Line 12 muffin cups with liner and spray with baking spray

Take 24 wafer crackers and place in food processor until crumbled.

Add melted butter until completely blended.

Evenly add crumb mix into the bottom of each muffin tin. Use 1/4 cup round measuring cup to press down crumb mixture.

Bake in oven for 5 minutes.

In mixer, add cream cheese and sugar and whip on high until fluffy.

Lower to low speed and add vanilla, and each egg one at a time, until completely blended.

Pour even amount of cream cheese mix on top of crumb mix till full to top.

Place a wafer on top of each cup and bake for 20 minutes.

Remove from oven and spread a tablespoon of jam on top of each cupcake.

Stick in freezer for 15 minutes to cool or refrigerator until time to serve. (you can freeze them for up to two weeks at this point)

A few hours before serving sprinkle with powdered sugar and top each with 3 raspberries.

Keep refrigerated until ready to serve.
Categories: