Lemon Cupcakes are pretty little cakes that are piped full of lemon curd and topped with the perfect amount of homemade whipped cream.
A few weeks ago a blog I follow posted a picture of Lemon cupcakes with lemon filling, but there was no recipe.  Who does that?  I mean really, you show us this delicious cupcake you get us all excited because we have a hankering for some lemon cupcake and NO RECIPE!  Shame on you blogger for not supporting us lemon-a-holics.  So like any reasonable person, I pulled out my lemons, cream and eggs (well I pulled eggs out from the hen house) and I whipped up my own lemon cupcakes.   SO THERE!
Now here is a quick tip, the first batch I went  a little light on the curd, thinking that it would be too much lemon if I overfilled the little cakes.  GASP- too much lemon, is there such a thing, you ask?  NO there is not, the second batch I cut out a big whopping hole and overfilled it with curd.  Check out the above picture.  You want it overfilling with lemon goodness.  Then top with your whipped cream.
Did you know that there are many health benefits of lemons that have been known for centuries. Ancient Egyptians believed that eating lemons and drinking lemon juice was an effective protection against a variety of poisons.  The huge reasons to add lemon juice, and zest to your diet are that lemons' have strong antibacterial, antiviral, and immune-boosting powers.
So even when you add lemon juice to your desserts you are reaping the benefits of lemons.  An easy way to add lemon to your diet is on your salads or water, a spritz of juice here and there can have a big impact on your digestive track and immune system!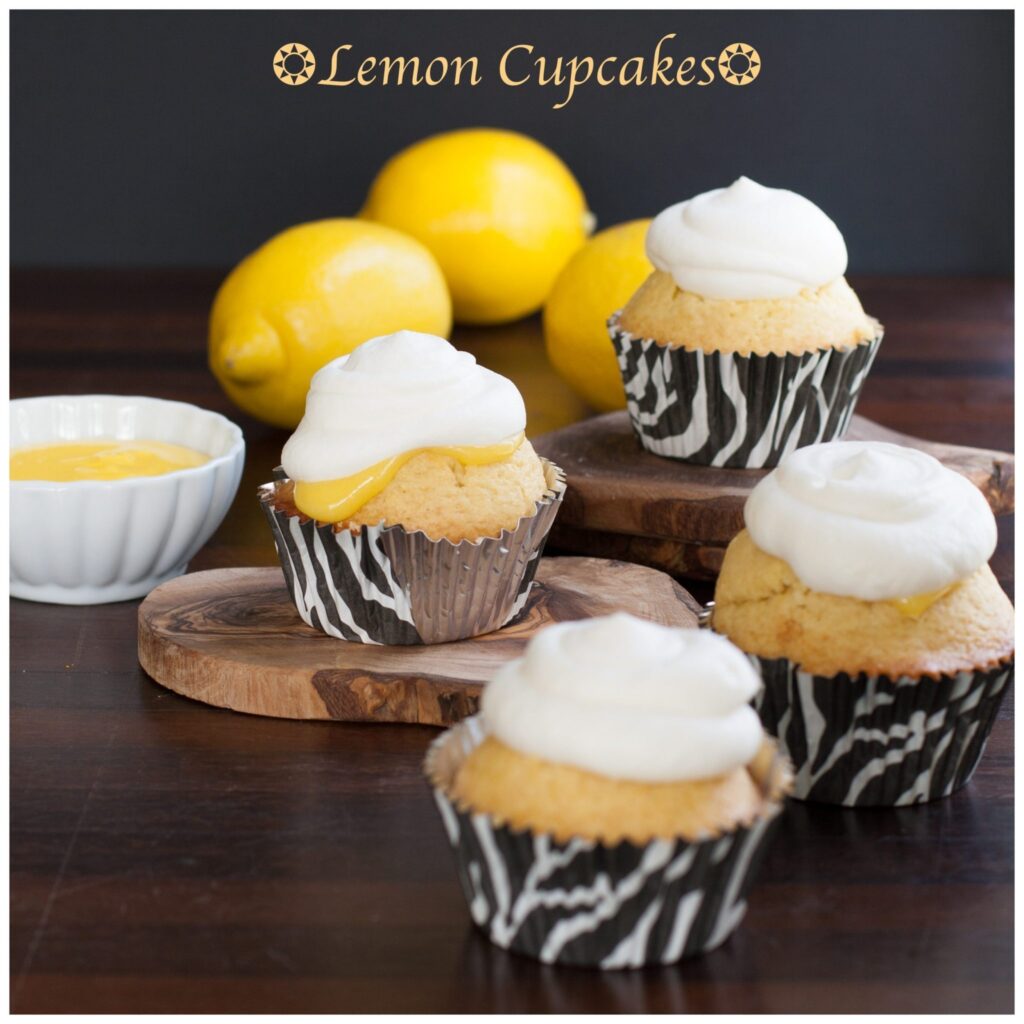 Lemon Cupcakes
Ingredients

Cupcake:
1/2

cup

unsalted butter

room temperature

2/3

cup

sugar

3

large eggs

1

teaspoon

pure vanilla extract

Zest of 1 large lemon

1 1/2

cups

all purpose flour

1 1/2

teaspoons

baking powder

1/4

teaspoon

salt

1/4

cup

milk

Lemon Curd:
3

large eggs

1/3

cup

fresh lemon juice

3 lemons

1

tablespoon

finely shredded lemon zest

3/4

cup

sugar

4

tablespoons

unsalted butter

at room temperature

Whipped Cream:
1

cup

heavy whipping cream

1/2

teaspoon

pure vanilla extract

2

tablespoon

sugar
Instructions
Cupcake Directions:
Preheat oven to 350 degrees and line 12 muffin cups with paper liners spray with baking spray.

In mixing bowl beat the butter and sugar until light and fluffy. Add the eggs, one at a time, beating well after each addition. Add in the vanilla extract and lemon zest.

In a medium bowl whisk together the flour, baking powder, and salt.

With the mixer on low speed, alternately add the flour mixture and milk, in three additions, beginning and ending with the flour. Scrape down the sides of the bowl as needed.

Fill the muffin cups with batter. Bake for about 19 - 20 minutes. Once the cupcakes have cooled completely, cut a deep hole in the center of each cupcake, using a melon baller or small pairing knife.
Lemon Curd Directions:
While cupcakes are baking

In a glass or stainless steel bowl place eggs, sugar and lemon juice and whisk to blend. Place bowl over simmering water. Cook, stirring constantly (to prevent it from curdling), until the mixture becomes thick like yogurt. This will take approximately 10 minutes.

Remove from heat and immediately pour through a fine strainer to remove any lumps. Cut the butter into small pieces and whisk into the mixture until the butter has melted. Add the lemon zest and let cool.

The lemon curd will continue to thicken as it cools. Cover immediately with plastic wrap. Place wrap directly on curd so a skin doesn't form and refrigerate until cold at least 30 minutes. The lemon curd can be made several days (up to a week) in advance.

After curd is completely cool take a spoon and fill each hole in cupcake.
Whipped Cream Directions:
In a large mixing bowl place the whipping cream, vanilla extract, and sugar and stir to combine. Beat the mixture until stiff peaks form. Spread or pipe frosting on each cupcake. You can store in refrigerator until ready to serve.
Categories: