Paleo Cauliflower Chicken Chowder is unbelievably good and good for you, gluten free, grain free, dairy free,  soy free and whole 30 friendly.  You will be amazed at how hearty flavorful and satisfying this chowder is, and it is super easy to pull together.  Use a Cooked Organic rotisserie chicken from your local store to cut down on cook time.  If you want to keep this vegetarian, skip adding the chicken the chowder.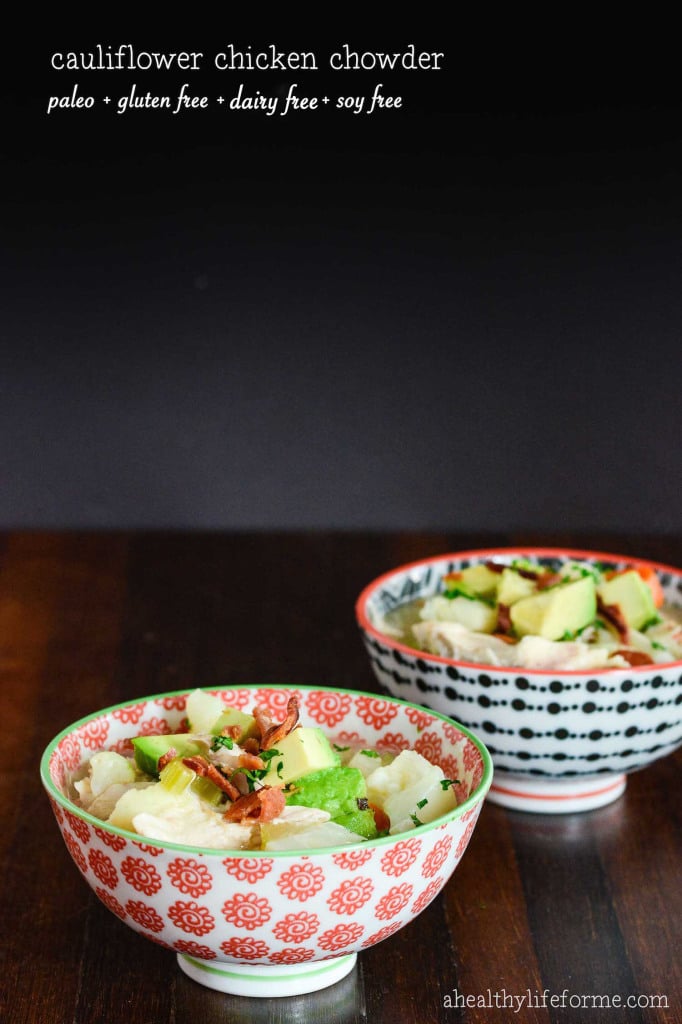 Put on your scarf and mittens.  It is cold outside!  There is snow on the ground and its going to 10° tonight.  Which means there is a snow emergency here in Cincinnati.  No, I am not joking Cincinnatian's don't cope well when it snows.  My family in Cleveland always shakes their head at how their southern neighbors freak at the thought of snow on the drive into work.  They don't bat an eyelash unless it is over 10′.
No matter how much snow you have it is day's like these that we all want a delicious bowl of chowder to warm us up.  My Paleo Cauliflower Chicken Chowder is just what you need.  Loaded with so many delicious healthy flavors.  I love it because that it is fast and easy. Using the meat from a rotisserie chicken saves me time, too. And don't let the addition of the cauliflower scare you—it is very neutral in flavor and adds so much nutritional fiber and substance to this chowder.
http://youtu.be/AEi7JjPlYQ4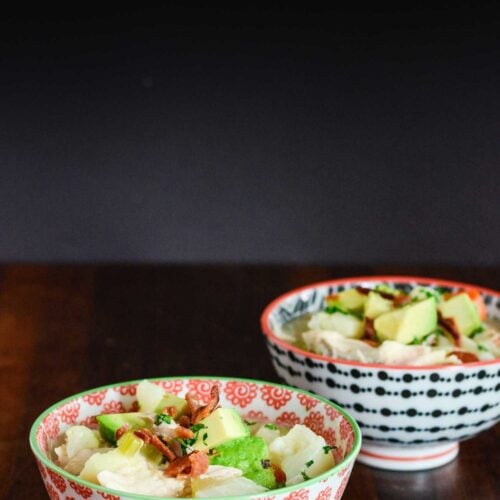 Paleo Cauliflower Chicken Chowder
Ingredients
4

slices

bacon

diced

2

tablespoons

ghee

or Coconut oil

2

cloves

garlic

minced

1

medium yellow onion

diced

2

carrots

peeled and diced

2

stalks celery

diced

1/4

cup

arrowroot

4

cups

organic chicken broth

1

cup

unsweetened coconut milk

1

head cauliflower

roughly chopped

1

bay leaf

sea salt and freshly ground black pepper

to taste

1

Organic Rotissaire Chicken

skin removed and meat shredded

2

tablespoons

chopped fresh parsley leaves

Avocado

peeled seeded and diced
Instructions
Heat a large skillet over medium high heat. Add bacon and cook until brown and crispy, about 6-8 minutes. Transfer to a paper towel-lined plate; set aside.

Melt butter in a large stockpot or Dutch oven over medium heat. Add garlic, onion, carrots and celery. Cook, stirring occasionally, until tender, about 3-4 minutes. Stir in cauliflower and bay leaf. Cook, stirring occasionally, until tender, about 3-4 minutes.

Whisk in arrowroot until lightly browned, about 1 minute. Gradually whisk in chicken broth and coconut milk, and cook, whisking constantly, until slightly thickened, about 3-4 minutes.

Bring to a boil; reduce heat and simmer until cauliflower are tender, about 12-15 minutes; season with salt and pepper, to taste. If the chowder is too thick, add more milk as needed until desired consistency is reached.

If using chicken add, stir and serve immediately.

Garnish with bacon, avocado and parsley, if desired.
Notes
You can freeze soup. If you are going to freeze, do NOT add bacon or avocado.
Categories:
You may also like these recipes: