Bison Burger Sliders are a healthy alternative to beef sliders, and they're just as tasty! Everyone will gobble up these savory mini-burgers on sweet Hawaiian rolls.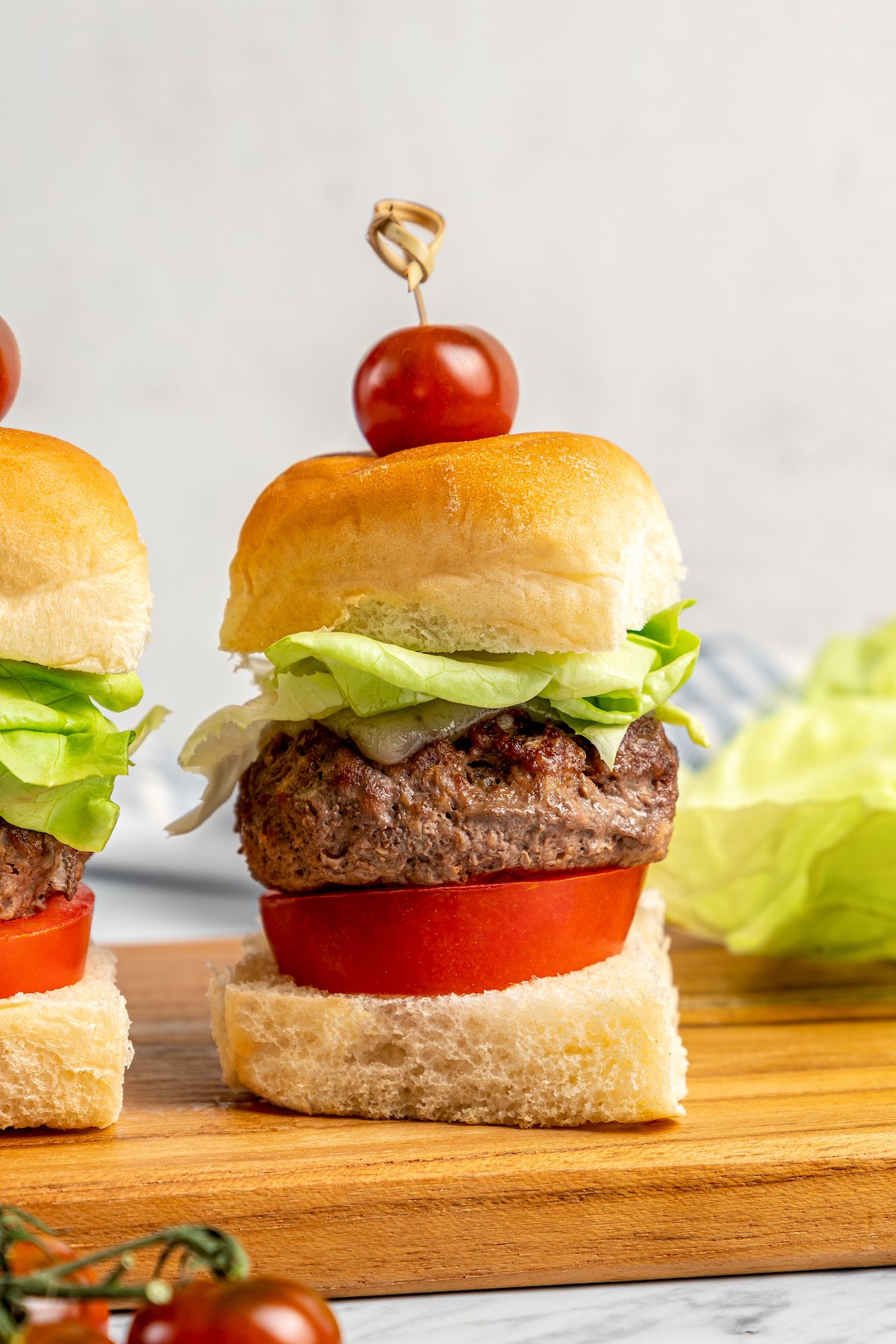 The Best Slider Recipe, Ever!
In my book, a perfect Superbowl recipe should look great, taste great, and give you that feeling of indulgence… while still being healthy. Impossible, you say? Well, let me introduce you to this fabulous bison burger slider recipe.
Made with lean ground bison and topped with Swiss cheese, Roma tomato, and a sliver of romaine lettuce, three are sure to disappear fast. Set out condiments like mustard and ketchup, and let your guests add what they like.
Are Bison Burgers Healthy?
Definitely! Bison (also known as buffalo), in comparison to beef, pork, chicken, and salmon, has significantly less fat, calories and cholesterol. On top of that, it has more iron than all of them, and more B-12 than all of them except salmon. Amazing, right?
Does Bison Taste Like Beef?
Yes, it tastes a lot like beef. In fact, and if cooked properly, it's so similar that no one would know it is not beef. I have fooled my family several times!
One important difference is that most people complain that bison dries out during cooking and loses its flavor. I solved this problem by adding moisture into the ground bison by incorporating grated onion, a large egg, Parmesan cheese, and sriracha sauce (spicy!). This keeps the moisture content high, while adding a ton of flavor. I also baked the burgers on a broiler pan, which pushes moisture back up around the meat while it's cooking.
What You'll Need
Let's go over the ingredients you'll need to make this fun, party-friendly recipe. Here's the list, in detail:
For the Bison Burger Patties
Ground Bison: If you use frozen bison, be sure to defrost it in your refrigerator in advance.
Onion: A sweet onion works especially well, but any kind is fine.
Egg: Egg adds moisture, richness, and helps hold the slider patties together.
Sriracha: You can replace this with barbecue sauce or even mayonnaise, if you want the moisture without the kick.
Parmesan: Finely grated Parmesan brings extra umami and a little melted goodness to the sliders. Don't skip it!
For Serving
Buns: The buns should be small – dinner rolls work well. I love the sweetness of Hawaiian rolls – yum.
Cheese: Swiss is my go-to, but cheddar, American, Havarti, or any other sliced melting cheese would be mouthwatering!
Tomato: Roma tomatoes are the perfect size and have less juice than other tomatoes.
Lettuce: Any lettuce you like. I use romaine.
How to Make Bison Burger Sliders
If you can make a hamburger patty, you can make these bison burger sliders, no sweat. The cooking method is as easy as can be. These steps will show you how:
Get Ready to Cook. First, since the sliders will be baked, get your oven preheating to 400F. Take your broiler pan and line the inside with foil for easy cleanup. Spray the top with cooking spray (I prefer organic cooking spray).
Grate the Onion. Peel your onion, and cut off the ends. Then use the large holes of a box grater to grate the onion into a mixing bowl.
Mix the Patty Ingredients. Add the egg, sriracha sauce, and Parmesan to the mixing bowl, and stir to combine. Blend in the bison as well.
Shape the Patties. Shape the bison mixture into balls. They should be about 3 inches across for sliders. (You could also make larger 6 inch balls for regular burgers.) Place them on the broiler pan, and gently press but do not completely flatten.
Bake. Bake the sliders in the preheated oven for 20 minutes (or full-size burgers for 30 minutes).
Add Cheese. If you're using cheese, lay the slices on the baked patties and return them to the oven for about 5 minutes, to melt.
Serve. Place the cooked patties on your slider buns with the toppings and condiments of your choice. Enjoy!
Helpful Tips for Success
I hope you're feeling inspired to try these easy bison sliders. If you do, be sure to check out these helpful tips! They're guaranteed to make your dish turn out just right.
Bison vs. Beef: If you don't have bison, this recipe also works well with lean ground beef. Make sure to use very lean beef, or the patties may turn out overly greasy (or fall apart!).
Broiler Pan: If you don't have a broiler pan, feel free to cook these on a rimmed baking sheet, and drain them on a paper-towel-lined plate.
Keep Warm: I have made these ahead of time and placed them in the oven on very low heat, about 200F, to keep warm while guests arrived. Easy! Just place them in a clean baking dish and cover with foil.
What to Serve with Bison Burger Sliders
To serve your bison burger sliders, try making an assortment of game day appetizers and snacks. Your family and guests will have so much fun choosing from each dish. These are some of our favorites:
Southwestern Chicken Cups: Made with wonton wrappers and pre-seasoned chicken, these Southwestern Chicken Wonton Cups are a super-cute and fun appetizer with tons of flavor. Everyone will ask you for the recipe!
Sweet Potato Bites: A little sweet, a little savory, and a whole lotta delicious, Loaded Sweet Potato Bites are incredibly easy to whip up and make the perfect appetizer. You might want to make two batches, because these are sure to disappear, fast.
Deviled Eggs: With prosciutto on top and a little spicy kick, these Spicy Deviled Eggs are even more irresistible than regular deviled eggs, and that's saying a lot!
How to Store and Reheat Leftovers
On the day of the party, you can keep these yummy little sliders covered with foil in the warming drawer or a warm oven, to serve to guests as needed. Just don't wait more than one hour, or they may become a bit dry.
For longer storage, cool and cover the slider patties and refrigerate them for up to four days. Reheat in a covered skillet over low heat, or in the oven at 350F.
Can I Freeze These Bison Burger Sliders?
Sure! The cooked bison patties will keep in your freezer for up to three months. Make sure to cool them down and seal them tightly in a freezer bag for maximum freshness. Defrost in the fridge before reheating.
Bison Burger Sliders
Bison Burger Sliders are a healthy alternative to beef sliders, and they're just as tasty! Everyone will gobble up these savory mini-burgers on sweet Hawaiian rolls.
Ingredients
1

pound

ground bison

(sometimes labeled "ground buffalo")

1

yellow sweet onion

small to medium

1

large egg

2

tablespoon

sriracha sauce

1/4

cup

finely grated parmesan cheese

slider buns

I used King's Hawaiian rolls

Swiss cheese

or cheese of your choice

1

Roma tomato

sliced

Romaine lettuce
Instructions
Preheat oven to 400°. Line the lower part of broiler pan with foil for easy cleanup and spray top part of pan with organic cooking spray.

Peel and cut ends off onion. Using the large holes of a box grater, grate onion into a mixing bowl (you should get about 1/2 cup of onion).

Add egg, sriracha sauce and parmesan cheese to the bowl with the grated onion, and stir to combine.

Add bison to bowl and blend until completely combined.

Using your hands, form 3" balls for sliders 6" balls for full-size burgers.

Place on broiler pan. Gently push down, but do not completely flatten.

Cook sliders for 20 minutes, full size burgers for 30 minutes.

Place cheese on burgers and return to oven until cheese melts, about 5 minutes.

Serve on split rolls or buns with toppings of choice.
Categories:
More Ways to Cook with Bison