Open Faced Honey Bourbon Glazed Salmon Sandwich is layers of crunchy bread with creamy avocado perfectly grilled bourbon glazed salmon topped with a dollop of feta aioli.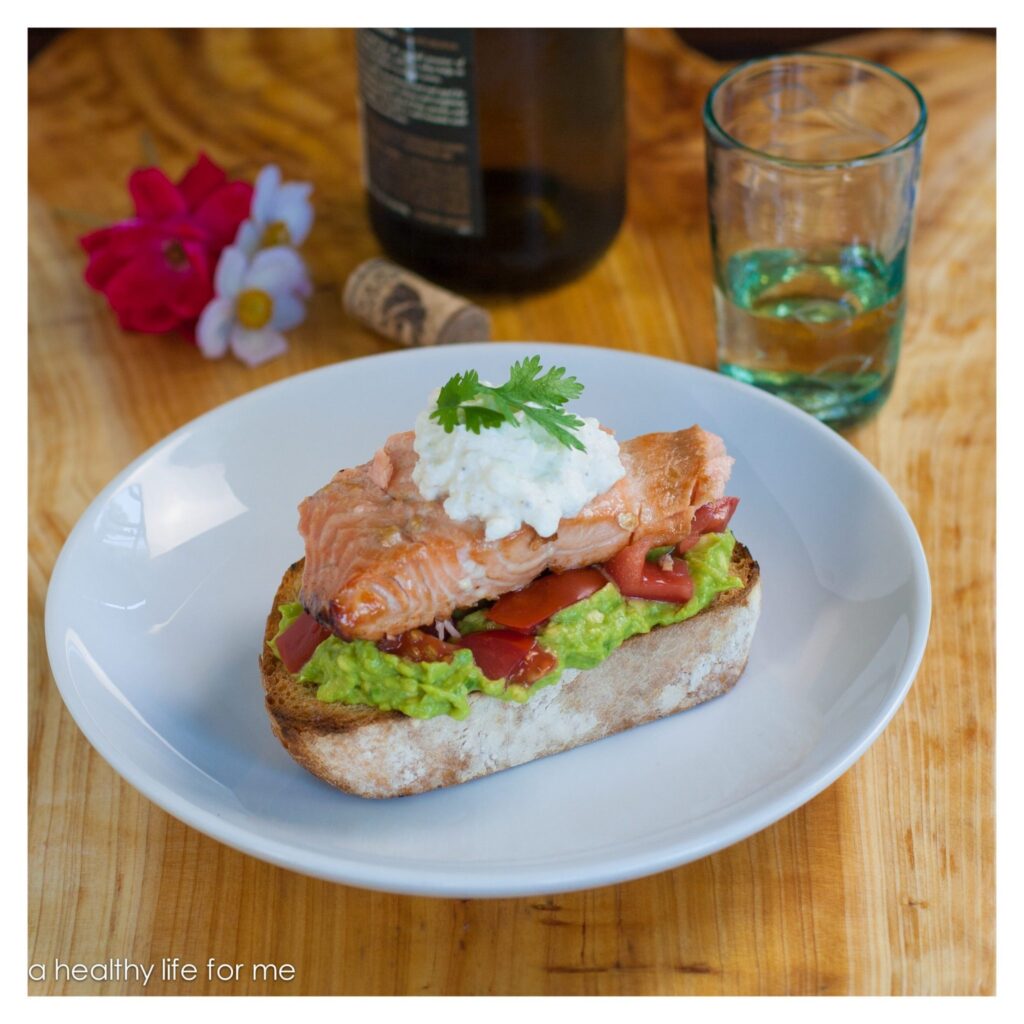 I am on a mission, and my poor husband is why.  He went to the doctor for his yearly physical and had his blood work done to find out that he is right on the cusp of having high cholesterol.  Of course the first thing our doctor wanted to do was write out a prescription.  He declined and said he would work on his diet and try to lower it naturally, the doctor pushed two more times for the prescription.  My husband asked very specifically "Am I in danger if I don't take this drug?"  The answer was "no".  There in lies one of the problems with the health of America.  The idea that a pill fixes everything.  I am not going to rant about prescription drugs, because obviously there are many times when they are needed, but I do believe that many, many ailments, aches and pains can be fixed through our diet and life style.
I am on a mission and its making my husband diet full of five of the main foods that are known to lower your cholesterol.  Fish and Omega-3 Fatty Acids,  Oatmeal, Healthy Fats,  Almonds and Walnuts, and Fiber.
This is one of the first recipes I wrote to try and incorporate more fish into our dinners and eliminate more of the red meat meals.  With this dish I just don't know where to start to explain how much I **love** it.  I mean it, we have had it so many times since I wrote the recipe and took these photos and even Jacob has requested it.  I love it because it is loaded with healthy goodness, Omega-3's, beta carotene, lycopene, Vitamin K, E & B, plus those healthy fats that my hubby needs.
Another reason to love this dish is it is freaking delicious and SO easy to pull together.  You can cook the salmon tented on the grill or place it on a baking sheet in the oven at 400 degrees for 15 minutes, so it works during anytime of the year.
Enjoy!
If you make this recipe, please let me know! Leave a comment below or take a photo and tag me on Instagram or Twitter with #ahealthylifeforme. 
Are you following me on Instagram, Twitter, Facebook and Pinterest? Thanks for reading and subscribe to A Healthy Life For Me  to have each post delivered straight to your e-mail box.
Open Faced Honey Bourbon Glazed Salmon Sandwich
Ingredients

Honey Bourbon Glaze Salmon Ingredients:
3

tablespoons

honey

3

tablespoons

bourbon

2

tablespoons

low-sodium soy sauce

1

tablespoon

grated peeled fresh ginger

1

tablespoon

lemon juice

3

garlic cloves

minced

1/4

teaspoon

freshly ground black pepper

1 1/2

pound

Salmon

skin removed
1/2

cup

Feta

crumbled

2

tablespoons

light mayonnaise

3

tablespoons

plain fat-free greek yogurt

1

teaspoon

lemon juice

1

clove

garlic

minced

1/4

teaspoon

black pepper

Avocado Spread Ingredients:
1

Avocado

pitted and skin removed mashed

Pinch

of salt

Drizzle of Olive Oil

Other Ingredients:
1

medium tomato

cubed

Cilantro leaves

Loaf of chunky bread

such as sourdough or Tuscan Boule

1

tablespoon

chia seeds

divided
Instructions
Bourbon Glaze Salmon Instructions:
Add all ingredients in a ziploc bag and refrigerate for one hour, turning a few times.

Heat grill to medium high. (or heat oven to 400 degrees)

Place Salmon on foil and loosley tent. (if using oven, just place foil on baking sheet)

Place foil wrapped salmon on grill

On other side of grill, place bread for a minute, flip and cook until just toasted.

Grill Salmon for around 15 minutes. (if using oven, 15-18 minutes)

Remove and cut into 4-5 ounce pieces ( about 2-3" wide)
Feta Aioli Instructions:
Add all ingredients in a bowl and stir to combine.

Refrigerate if you are not using right away.
Avocado Instructions:
In a bowl add ingredients, mash and stir.
Assembly Instructions:
Spread each slice of bread with a generous helping of Avocado.

Top with a sprinkle of Chia seeds.

Top with some diced tomato.

Top with a piece of salmon.

Top salmon with a tablespoon of Aioli

Top with cilantro
Categories: