This easy boom boom shrimp recipe is made in the air fryer for a super quick, crispy Asian dinner. The best part about them is the spicy 3-ingredient sauce they're tossed in right before serving with crunchy green onions.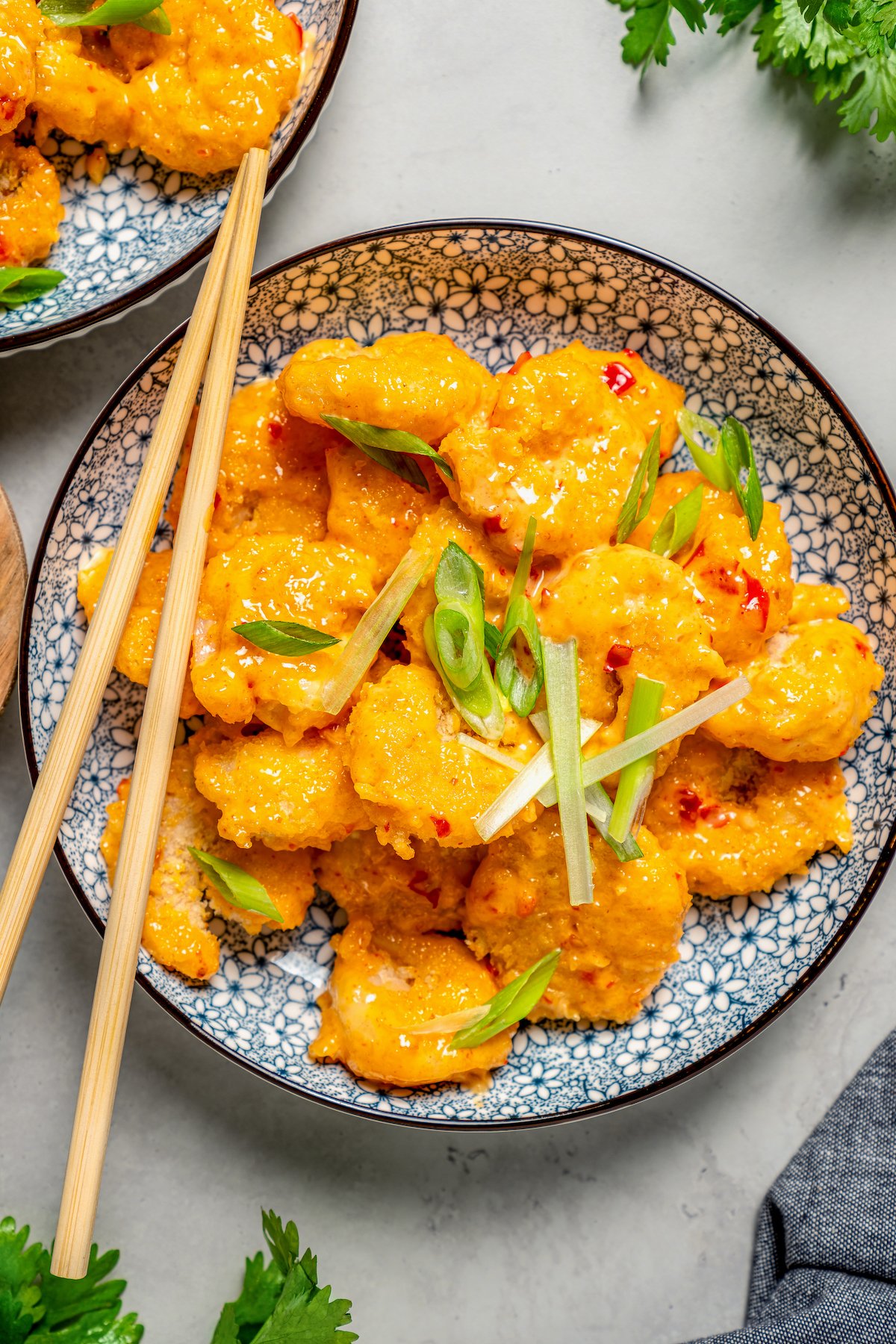 Easy Boom Boom Shrimp Recipe
If you're looking for a new Asian recipe to try out, these golden panko shrimp with spicy boom boom sauce are for you! Air fried until crispy on the outside but buttery and tender on the inside, it'll be your new favorite way to prepare shrimp from now on. They're tossed and served with a rich homemade sauce in only 30 minutes. It's got creamy mayo, tangy Sriracha, and sweet chili sauce. Only three ingredients— what more could you ask for? Garnished with crunchy green onions for a pop of color, this sweet-and-savory dinner will be a weeknight hit every time.
Why You'll Love This Recipe for Boom Boom Shrimp
Despite being super easy to make, this boom boom shrimp still packs a load of flavors and texture.
Convenient. Set a timer and let the air fryer do all the cooking for you!
Quick. It's ready in 30 minutes. Whether you make it fresh or prep it for the week, everyone has time for a quick recipe like this one.
Easy. Set up the breading station, cook the shrimp, and toss them in a whisked sauce. It doesn't get much easier than this!
Homemade. This means you can add more mayo, make it spicier, or simply have more servings if you feel like it.
What Is Boom Boom Shrimp?
Boom boom shrimp is a popular Asian-inspired American recipe that consists of deep-fried tempura shrimp tossed in a sweet-and-savory sauce. The base of the sauce is made with mayonnaise, sweet chili sauce, or Sriracha. Other ingredients like soy sauce, garlic, and sesame oil can be added but they're not necessary. It's served hot or at room temperature and makes a great appetizer or main dish for all your Asian dinners depending on how you serve it.
Recipe Ingredients
Sriracha is what gives the sauce the perfect amount of Asian flair. Check the recipe card at the bottom of the post for exact quantities.
Raw shrimp – Pat them dry with paper towels to remove excess moisture.
Cornstarch – Flour and tapioca starch work too.
Egg white – Feel free to use the whole egg, not just the egg white.
Panko breadcrumbs – Regular breadcrumbs are a great swap.
Cooking spray – You can use olive, vegetable, corn, or canola oil.
Mayonnaise – Use full-fat or low-fat mayo.
Sweet chili sauce – Chili oil works too, but reduce the amount by half.
Sriracha – Tabasco or Frank's Red Sauce will give you a similar amount of heat.
Green onion – These are for garnishing.
What's The Best Shrimp To Use?
Medium to large raw shrimp are best because they're meaty enough for the flavor to come through the sauce. Avoid cocktail shrimp because they're too small, will overcook, and become rubbery.
How to Make Boom Boom Shrimp
The air fryer takes care of everything once you bread the shrimp. Check the recipe card at the bottom of the post for more detailed steps.
Prepare the breading station. Place the cornstarch, egg white, and panko in three separate bowls. This makes the coating process smoother.
Coat the shrimp. Coat the shrimp with cornstarch and set them aside on a plate or tray.
Dip and coat. Dip each cornstarch-coated shrimp into the egg white, allowing any excess to drip off. Then, transfer the shrimp into the panko, pressing them into the crumbs. Make sure they're completely coated.
Prep the air fryer. Lay the breaded shrimp in a single layer in the air fryer basket. Give them a light spray with cooking oil.
Air fry them. Cook the shrimp in the air fryer at 350F for 5 minutes. Flip them over, spray the other side with oil, and air fry for an additional 2 minutes, or until they turn golden brown. Keep an eye on them to prevent overcooking.
Whisk the sauce. Whisk together the mayonnaise, chili sauce, and Sriracha until you get a smooth mixture.
Toss everything. Remove the shrimp from the air fryer and toss them in a large bowl with the sauce.
Serve. Garnish with green onions and serve immediately.
Tips for Success
You can instantly improve and master the flavor and texture of any recipe for boom boom shrimp with these tips:
Ask the fishmonger. Fishmongers can clean and devein the shrimp for you. This will save you lots of prep time.
Don't over-crowd it. Cook a single layer of shrimp in the air fryer at a time. Piling them won't let them crisp up.
Hold the sauce. Add the sauce until right before serving so that the breading stays nice and crunchy.
Add umami. Whisk 3 tablespoons of soy sauce or 1 1/2 tablespoons of oyster sauce into the mixture to balance out the sweetness and heat. These sauces also add umami.
Add more toppings. Toasted sesame seeds, crispy tempura pearls, and sliced avocado are wonderful toppings.
Use frozen shrimp. Don't worry if you can't get a hold of fresh shrimp, use frozen shrimp but make sure it's completely thawed.
Serving Suggestions
This boom boom shrimp pairs perfectly with your favorite Asian-inspired dinners. I love to serve it with a side of steamed rice or Shrimp Fried Rice. My Soba Noodle Salad with Shrimp also makes a great base. For veggie sides, try my Asian Stir Fry and Roasted Bok Choy.
How to Store & Reheat Leftovers
Once fully cooled, refrigerate the leftovers in an airtight container for up to 4 days. Shrimp shouldn't be stored as long as other types of protein because it spoils faster. Reheat it in the microwave for up to a minute. You can also heat it in a pan over medium heat for 6-7 minutes. If you want them crispy again, place them in the air fryer at 400F for 1 minute, flip them over, and cook for another minute.
More Easy Shrimp Recipes
Boom Boom Shrimp
This spicy, crispy boom boom shrimp recipe with green onions is a takeout favorite you'll be making at home from now on. 
Ingredients
1

lb

medium-sized raw shrimp

deveined, tails off

1/4

cup

cornstarch

1

large egg white

1-1/2

cups

panko bread crumbs

spray oil or olive oil

1/2

cup

mayonnaise

2

tablespoons

sweet chili sauce

2

tablespoons

Sriracha

less or more to taste

sliced green onion for garnish

optional
Instructions
Separate cornstarch, egg white and panko into three separate bowls.

Coat shrimp with cornstarch and set aside on a paper plate.

Dip and coat shrimp in egg white, then transfer to panko, pressing the shrimp into the crumbs to coat evenly on both sides..

Place shrimp in a single layer in the air fryer basket.

Spray or coat top of shrimp with avocado oil. Air fry for 5 minutes at 350 degrees, flip shrimp over, spray the other side with oil, and air fry for another 2 minutes until golden brown. You may need to do it in batches depending on the size of the air fryer basket.

While shrimp are cooking, prepare the sauce. In a bowl that's big enough to fit all shrimp after they're cooked, whisk together mayonnaise, chili sauce and Sriracha.

Once shrimp are done, carefully toss shrimp with sauce.

Serve immediately. Garnish with green onions if you choose.
Categories: